THIS early, Gilas Pilipinas coach Tab Baldwin is thanking 'very smart coaches' in his staff for selling him the idea of getting Calvin Abueva for the national pool ahead of the Fiba Asia championships.
"In my mind, I had big questions about Calvin coming in to be an international player and I still think that there are still lots of areas for Calvin to develop," the straight-talking Baldwin admitted to Spin.ph on Sunday.
"But some very smart PBA coaches, guys on my coaching staff, they were talking to me and they were saying, 'Coach, c'mon, he's a talent, we need his physical talent.'
"And they really talked me into it. And I think, it's probably the best decision I made, consulting my assistant coaches," he added. "I just enjoy Calvin so much, he is such a productive player."
Spin.ph had previously reported that 'The Beast' was not part of the initial wishlist of 26 players that Baldwin had requested from the PBA, months before starting Gilas' buildup for the China tournament.
ADVERTISEMENT - CONTINUE READING BELOW ↓
[See Romeo, Almazan, Hontiveros among new faces on Baldwin wishlist]
Although he declined to talk about the names on the list, Baldwin admitted he had initial doubts about 'The Beast,' from his lack of size for the forward position to his controversial antics on the floor.
"I think a lot of people have doubts on Calvin, both in terms of his ability to bring his 6-foot-2 frame into a power forward role internationally or could he make the transition to the small forward role. There were doubts about that," he said.
"There were doubts about his self-discipline and his control, but so far he's been outstanding."
But after 12 practice sessions since Gilas started the buildup for the tournament serving as Asia's qualifier for the 2016 Olympics in Rio de Janeiro, Baldwin has been singing nothing but praises for the Alaska star.
"I really like him. I really, really like him," Baldwin told Spin.ph. "I really feel that this is a quality kid that belonged in the Gilas environment. Now that he is in there, it will be tough for anybody to get him out.
ADVERTISEMENT - CONTINUE READING BELOW ↓
"I think he is a wonderful guy. I didn't know that. I didn't know him at all before he came in to camp."
[See Abueva the missing piece for Gilas, say legends Freddie Webb and Manotoc]
Baldwin said Abueva's attitude and work ethic has been exceptional in camp.
"I had some discussions with Calvin. For me, it was really fruitful and productive and I think he understands what I am looking for from him as a coach," he said.
"He's a great kid, I really enjoy him having in the camp. And so far, he has done a tremendous job. His work ethic is excellent and his attitude has been outstanding."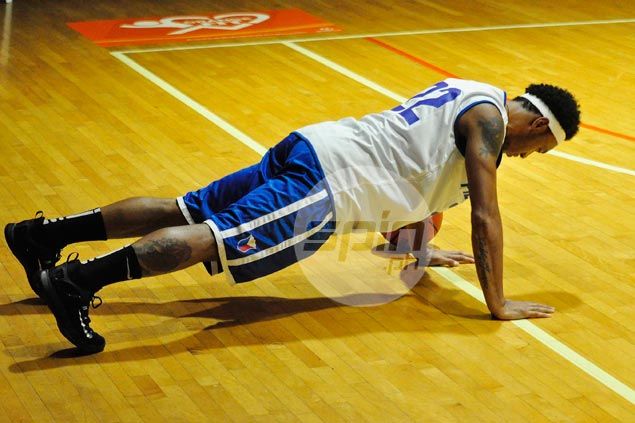 ADVERTISEMENT - CONTINUE READING BELOW ↓
Asked about Abueva's antics, Baldwin said, "I haven't seen any sign of it during camp. Certainly we saw it during the PBA but that's what I mean, I had some discussions with him and I believe he is up to the challenge.
"His attitude has been great in camp. I see no reason why it will change, as long we continue to communicate, as long as he understands that he plays for the country, he has to put all of his personal agendas aside … and I think he understands that."
[See Calvin as point guard for Gilas? Why not, says Pineda]
Asked about the chances of Abueva making the Gilas team bound for Changsha, China next month, Baldwin said it will depend on what he will show in the weeks leading up to the Fiba Asia showpiece.
"That's up to Calvin and how he plays and how he conducts himself. And certainly he has the ability to be there. He has the passion for wearing the colors. So now, it's up to Calvin," he said.
ADVERTISEMENT - CONTINUE READING BELOW ↓
"He has to play in a way that's gonna make people happy with the decision for him to be there and proud of him."
Here's a PODCAST of the interview with Baldwin: