THE national team of Tab Baldwin is turning out to be the fastest of the three editions of Gilas Pilipinas.
The Gilas pool building up for the Fiba Asia championships in Changsha, China next month have been picking up the pace in practice, thanks to new boys Terrence Romeo and Calvin Abueva who have been stepping on the gas and burning rubber at the Meralco Gym.
"I am telling you, those two guys are speed maniacs," gushed veteran Asi Taulava. "They don't stay in one place, they keep the tempo of our game beyond what is ordinary."
They Said It!

"Romeo and Abueva will make noise in Jones Cup malamang kapag nakita ng ibang team ang laro ni Abueva na patay kung patay, maninibago sila. Tapos si Romeo na pamatay ang crossover moves, tiyak para silang nakakita ng NBA guard sa Pinas." - Jayson Bautista Malit
The 43-year-old NLEX Road Warriors slotman bared that the energy the two provide is so infectious that all of the members of the Gilas pool are forced to keep up.
"We are forced to run up and down the court, which is good. We don't have the height, we'll rely on speed. But the speed the two gives the team is crazy, totally unimaginable. They are like kamikaze pilots running after a storm from the Pacific," added Taulava.
ADVERTISEMENT - CONTINUE READING BELOW ↓
"I love those two kids, they make us all work harder in practice."
[See Asi warns Asia on 'The Beast:' 'Calvin is an animal, he's not human']
Even 2014 Fiba World Cup veteran Gabe Norwood was all praises for the contributions of Abueva and Romeo, saying they keep the energy up in practice.
"Man, it's high energy the whole time. It's fun. It's what we need right now coz we don't have a lot of time to get in shape or a lot of time to get this offense. It's one of those things you have them on your side and appreciate their game on whole new level," said Norwood.
Asked if this is already the fastest Gilas team ever formed, Norwood said he is keeping his fingers crossed.
Norwood is certain speed will be the trump card of this Gilas team.
"Possibly, we'll have to see it when we're actually on the court, internationally. The teams internationally are just as fast, so we have to learn to use our speed, but hopefully we'll see that soon in the Jones Cup," he said.
ADVERTISEMENT - CONTINUE READING BELOW ↓
"But I think that will be our edge - speed. We have a good mix of youth with Calvin and Terrence and even with Troy (Rosario) right now in the pool. We have a good mix of veterans, they make us, the older guys, run a little bit faster," the Rain or Shine guard told Spin.ph.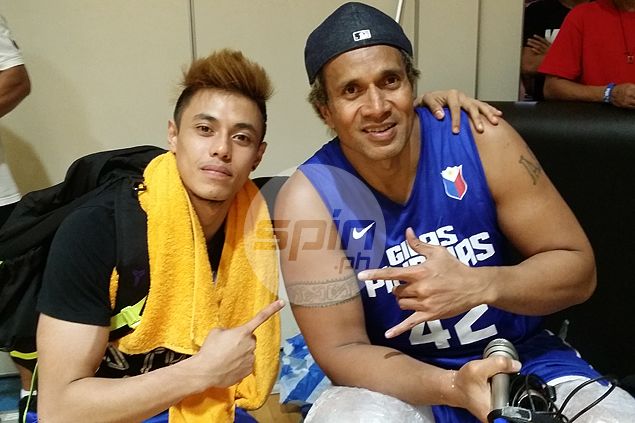 ADVERTISEMENT - CONTINUE READING BELOW ↓
Norwood is hoping Gilas' speed will give top Fiba Asia teams like China, Iran and South Korea problems.
"Our speed is a huge advantage and we have two of the best guys in the country that do it," said Norwood. "Some of the bigger countries may not be as fast. They play fast half court but in terms of transition they are not as fast. That's something we have to utlizie to our advantage."
They Said It!

"Finally Abueva is gaining some respect from his peers." - Woppie Treyes
[See LA Tenorio says Gilas still a strong contender even without former mainstays]
Even the original speedster of Gilas, Jayson Castro, is excited to run with the two.
"Maganda yan kasi more on offensive rebounding kami ngayon, bagay pa sa swing play namin 'yung dalawa. Pero hindi ko sinasabi na ibang iba sa dati ah, pero ngayon tulad ni Calvin, pag may nagagawa siya parang nabubuhay yung practice," said Castro.
"Maganda (yung inclusion ng dalawa) kasi atleast yung practice laging intense," he added.
ADVERTISEMENT - CONTINUE READING BELOW ↓