"ASIA, get ready to be 'ravaged' by 'The Beast.'''
That was the stern warning issued by veteran Fiba Asia campaigner Asi Taulava in the wake of the impressive performances put in by Calvin Abueva in Gilas Pilipinas practices.
The 43-year-old many-time national player was so impressed with Abueva as a teammate that he believes the former San Sebastian King Stag is bound to impress Asia and the world in the Fiba-Asia championships.
"I have played so many times with the national team and I have not seen anyone who plays as hard, as energetic and as tireless as Calvin. Damn, he is truly one of a kind," Taulava told Spin.ph at the end of Gilas practice.
"Calvin is an animal. He is not human. He is more than a workhorse," said the outspoken NLEX Road Warriors star.
To emphasize his point, Taulava went on a monologue in a video done for Spin.ph, delivered with the NLEX slotman's best imitation of the voice of famed ring announcer Michael Buffer.
ADVERTISEMENT - CONTINUE READING BELOW ↓
They Said It!

"The world will know about him. Even in the NBA, rare yung nakakaregular na 20-20 na 6'1. He has the tenacity of Rodman on the boards, maybe even more." - Ollie Pop
"Asia, you're about to be introduced to 'The Beast.' This guy is relentless, I am telling you right now, you have never seen this guy play," said Taulava.
"He will not stand still, he will set a screen, he will be the first one back on defense, he will hit you then he will smile at you. So get ready, you will be blown away," he added.
"The Beast is one of a kind, he is made in the Philippines, straight from Angeles!"
Watch the amusing VIDEO:
Taulava bared that playing against Abueva in the PBA is a totally different from playing alongside the Alaska forward.
"It's amazing. I've played against him in the PBA but to see him up close and the way he plays, I am just blown away. You just gotta let Calvin play. He just brings energy to everything he's done. Offense, defense, he just hustles the whole time," he said.
ADVERTISEMENT - CONTINUE READING BELOW ↓
"It's not just one thing that he does good. There's a lot of intagibles he does for the team. You can see it in coach Tab, he likes the guy, I think coach Tab might adopt him, right coach?" said Taulava, turning to Gilas coach Tab Baldwin.
[See Calvin Abueva turns doubting Baldwin into a believer]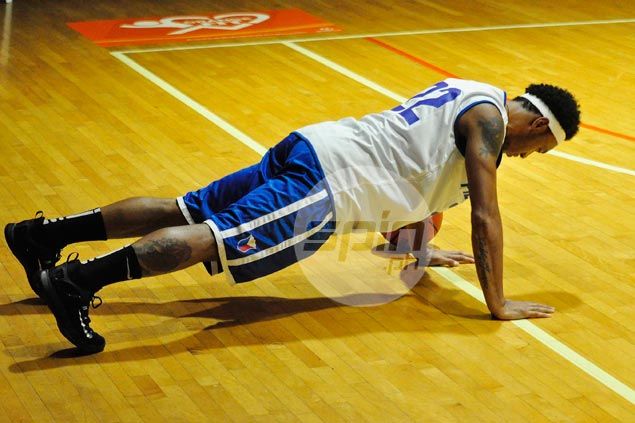 ADVERTISEMENT - CONTINUE READING BELOW ↓
Told about the high praise, Abueva merely smiled.
"Nagulat nga ako. Ginagawa ko lang naman yung laro ko rito, 'yung pinapagawa sa akin. Madami nga akong natutunan rito eh," said Abueva. "Lahat ng natutunan ko rito, madadala ko sa aking paglalaro!"
"Na-ano nga ako kasi na-a-appreciate ako kaya nga lalo kong dino-doble yung sipag ko rito," he said.
Asked about the concern of Baldwin and other Gilas fans regarding infamous antics on the court, Abueva said: "Wala siyang dapat ipag-worry, andun yung game ko at focus ko, lalong lalo na yung mental para mailabas ko yung magandang laro ko sa Fiba Asia," he said.
But what if he feels the need to get in somebody's head?
"Depende sa kalaban 'yun kung ano. (Pag inasar ako) lalabas siguro," he said, stucking his tongue out.