A TRIM and fit Andray Blatche rejoined Gilas Pilipinas in practice for the first time, showing he's ready for the battle ahead against powerhouse Australia in the FIBA World Cup qualifiers.
The 6-foot-11 naturalized player said he's happy to be back with his 'brothers' with whom he goes to war two weeks from now against Australia on Feb. 22 in Melbourne, and Japan on Feb. 25 at the Mall of Asia Arena.
"I'm happy to be back with my brothers and get ready to compete against Australia," said the former NBA player after practice on Monday at the Greenhills West gym.
"Yeah, I feel much better," when asked about him looking in good shape for the second window of the World Cup qualifiers.
Gilas coach Chot Reyes however, is tempering expectations on the fitness of Blatche, who in the past has notoriously come in out of shape for Gilas duty.
"He looks fit but too early to tell. We didn't do anything much today," said Reyes. "He's just getting back into the groove of things. It should be a harder practice tomorrow (Tuesday)."
Blatche arrived in the country last Friday, honoring his commitment with Gilas management that he will show up for practice by Feb. 12.
It helped, too, that he got an early clerance from his mother team in the Chinese Basketball Association (CBA) to be released in time for his national team duties.
Blatche said he talked to the president of his mother ballclub Xinjiang Flying Tigers to facilitate his early release.
ADVERTISEMENT - CONTINUE READING BELOW ↓
"Told him it's better to go for me to the Philippines earlier and start working out," said the 30-year-old New York native.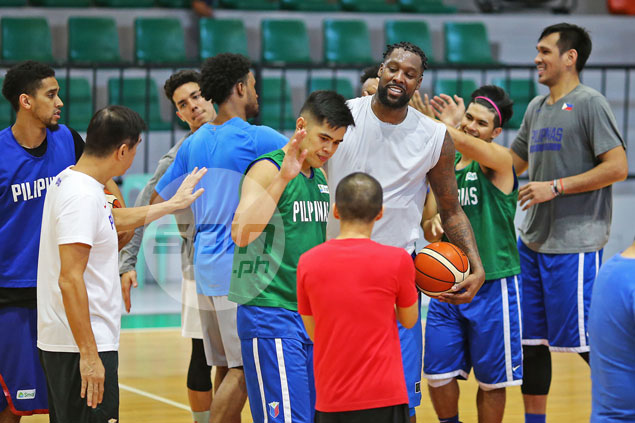 His request was granted and so here he is in the flesh to the satisfaction of his Gilas coach.
"He came in earlier but today is really the start of his practice," said Reyes.