TAIPEI - Demario Mayfield is so used to turning heads each time he turns up for an international tournament like the 39th Jones Cup here. It is not everyday after all that you see an American guy wearing a uniform with the Iraq flag on his chest.
"Every time, every day," Mayfield laughed when asked by Filipino reporters if he gets those incredulous looks each time he turns up for tournaments. "Each time they see Iraq on my jersey, they go, 'Oohhh. You in Iraq? How is it?'"
Mayfield, a 6-foot-5 forward born and raised in Georgia, played for UNC-Charlotte, Angelo State University and the University of Georgia in college and was not exactly short of options when he was approached by his Iraqi-Kuwaiti agent with an offer to play for a club team in the Iraq league.
He grabbed it.
The 26-year-old didn't exactly know what to expect when he first packed his bags for the Iraqi capital of Baghdad, but Mayfield swore that what greeted him was nothing he saw from the news back home.
"However the news portrays it, it's totally different, man," said Mayfield, who went undrafted in the 2015 NBA rookie draft. "Every country has its good and its bad, you know. Iraq is totally different, not like everybody thinks.
"You know in Iraq, (we hear about the) war and the bombings, but I've never seen any of it. And I live in the heart of Baghdad."
[See By learning to take it slow, Kobe Paras hastens his growth as a player]
Mayfield played two seasons in the six month-long Iraq national league and led his club Al Nift to the title just last season. He got back to the US to be with his wife and six-year-old son when he got the call to play for Iraq as a naturalized player.
Now, Mayfield not only represents Iraq, but he plays for the country with unbridled passion. He leads from the front during games and rallies his teammates behind him, playing a big role in Iraq's emergence as a force to be reckoned with in Asian basketball.
He currently leads the 2017 Jones Cup in scoring after a couple of big games, including a 29-point, six-steal, four-rebound, four-assist effort in the Iraqis' 75-84 loss to Gilas Pilipinas on Thursday.
"These guys now playing with me in the national team, we played against each other for two years, but now we're a brotherhood. And without these guys, everything I'm doin' wouldn't be possible," he said.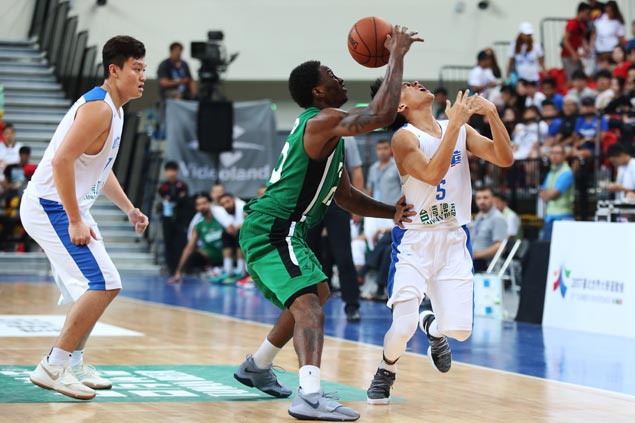 But more than lifting Iraqi basketball to new heights, he is prouder to break barriers and erase the stigma that has stuck with the war-torn nation.
"My only goal is to show people that it's more than war in Iraq, just to open people up," he said. "There are a lot of guys who came before me (and played for Iraq). Without those guys breaking the barrier, the Iraq stigma, I wouldn't be here. I just happen to fall in the right place at the right time."
And you'd be surprised by the love he gets from Iraqi fans.
"Man, if I can show you guys my Facebook and Viber, the Iraqis welcome me like family. If you go to Baghdad, majority of the people who follow the sport know me, and they come up to me, 'Hello, Dee,' then take pictures and everything.
"It's pretty cool, really."