COMMISSIONER Kenneth Duremdes said he will examine Ray Parks' documents in the face of a growing controversy spawned by the Maharlika Pilipinas Basketball League's (MPBL's) rules on Fil-foreign players.
The regional league owned by Manny Pacquiao came under fire when it set a rule limiting teams to one Fil-foreign player no taller than 6-4, shortly after expansion team Mandaluyong announced it has signed up Parks and fellow Fil-American Lawrence Domingo.
On Wednesday, Parks, son of seven-time PBA best import Bobby Ray Paks and who was born and raised in the Philippines, weighed in onthe rule labelled 'discriminatory,' 'racist,' and downright 'stupid' by former PBA players like Rob Reyes and Ali Peek.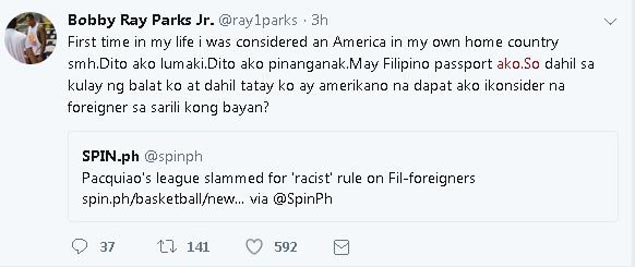 Continue reading below ↓
Recommended Videos
According to a league statement, Bernice Ilagan, co-owner of the Mandaluyong El Tigre, asked Duremdes for clarification on the status of Parks and asked if he can be considered a local.
"In a press release, you categorized Ray Parks as a Fil-Am and also Lawrence Domingo. In your statement, you said we must only choose one. Either si Ray Parks or si Lawrence Domingo," said Ilagan. "Doon naman kay Lawrence, he was considered Fil-Am. Then we measured him and he was measured 6-4. But given all these, can we consider Ray Parks as a local?."
Duremdes, however, made it clear that Parks will be considered a Fil-foreign player - and therefore subject to the MPBL's restrictions on Fil-foreign players - if his late dad was an American citizen at the time of his birth.
"Again, titingnan natin yung papel niyan (Parks). We cannot decide right away kung wala yung mga documents. Malalaman natin doon kung at the time of his birth kung yung father ba niya is a naturalized already or American citizen pa at that time?" said the former PBA star.
"Kung American citizen pa yung tatay niya at that time of his birth, (Ray Parks is) considered a Filipino-American."
At the same time, the MPBL released a new set of guidelines for Fil-foreign players through legal counsel Brando Viernesto.
"Marami tayong nababalitaan (about) Fil-Ams, kaya tayo nag-set ng guidelines sa Fil-foreigners para pa rin sa vision ng liga natin. Giving chance sa mga homegrown and local players natin. Yun naman ang vision ng ligang ito. Hindi naman natin sinasabing bawal sila totally, kaya nga binibigyan natin ng one Fil-foreign player each team sa ngayon. Wala pa naman tayong isang taon. MPBL has set the guidelines," said Viernesto.
Among the rules set by the league are:
* Fil-foreign players should have a two-year residency in the Philippines/or should have played college in the country.
* At least one of their parents should be a natural-born Philippine citizen.
* They should have a Philippines passport
* At least 18 years of age