THERE are always two sides to a story. Usually, only one is true.
And who between NLEX Road Warriors coach Boyet Fernandez and Big Chill counterpart Robert Sison is telling it as they continue to come to the defense of their respective players Ola Adeogun and Dexter Maiquez?
The war of words between the two mentors has reached fever pitch, with each having different takes on the scuffle between their respective big men that marred their PBA D-League game on Monday at the Trinity University of Asia gym.
The Aspirants Cup match was halted for several minutes in the third quarter after a head-butting incident between Adeogun and Maiquez. The former was eventually ejected with a flagrant foul 2 in the Road Warriors' 97-88 win.
They Said It!

"Boyet (Fernandez, coach of NLEX Road Warriors) should check his memory. (Dexter) Maiquez does not have a record in his career that he was suspended for deliberately hurting anyone." -  Big Chill coach Robert Sison
Fernandez reiterated that his cager, who he also handles at San Beda, has never been a dirty player.
"Knowing Ola he will not hurt anyone. If you look at the game, the whole game… Maiquez was hurting him. You just have to give the other guy a break…" Fernandez told Spin.ph.
"Ola was playing well and you will just…" he added without completing his sentence.
This however did not sit well with Sison, who claims it was the other way around, as evidenced by Maiquez's bruise on his right cheek.
"Hindi si Maiquez ang nag-initiate… si Ola ang nag-headbutt sa kanya. I believe my player. I teach them to be physical and aggressive, pero I never teach them to play dirty," he said. "There's a thin line between the two!"
Sison also wants pointed to the two players' track records in college.
"I think, Boyet should check his memory. Maiquez does not have a record in his career that he was suspended for deliberately hurting anyone," said the youthful coach.
"Ola was suspended for four games because he was involved in the publicized mulling and scuffle of Frankie Lim and the rest of San Beda team and the Roger Gorayeb-led San Sebastian Volleyball team in December 2011," he added.
"Now tell me… who is capable of hurting? Ola or Maiquez?" said the Superchargers coach.
Meanwhile, Spin.ph learned from the NCAA management committee that Adeogun was suspended alongside the other personalities of the 2011 fracas not for throwing a punch but because of his act of complaining to Lim, which fired up the already heated situation.
Pictures of the incident also clearly showed Adeogun situated away from Lim and Gorayeb's brawl.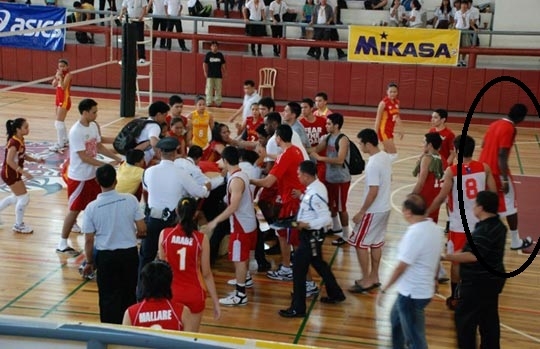 PBA commissioner Chito Salud is set to meet Adeogun and Maiquez on Wednesday, as the supposed Tuesday meeting was cancelled because the league chieftain had to be at the PBA games at the Mall of Asia Arena.