GREG Slaughter eclipsed Raymond Almazan in the supposed showdown of big men but it was Ian Sangalang who stood tallest as NLEX remained unscathed with an 84-75 victory over Cagayan Valley on Thursday the PBA D-League Aspirants Cup at the JCSGO gym in Quezon City.
Sangalang had eight of his 18 points in the fourth quarter and finished with three blocks, while the debuting Slaughter finished with nine points and four blocks to help the Road Warriors win their seventh game of the conference and their 24th consecutive match dating back to January.
In staving off a Rising Suns squad determined to pull off an upset, the Road Warriors moved closer to clinching an outright semifinal seat with three games left in the elimination round.
"They were really ready for us," said NLEX coach Boyet Fernandez. "But our boys didn't want to lose the game because this is a welcome game for Greg. I'm happy that Greg and Ian are playing very well. But we really have to check our defense."
Sangalang scored six points in NLEX's 8-0 run to start the fourth. Another 9-0 spurt by the Road Warriors allowed them to take the lead for good, 79-65, midway in the fourth.
Cagayan Valley slipped to a 4-2 record for fourth place in the standings.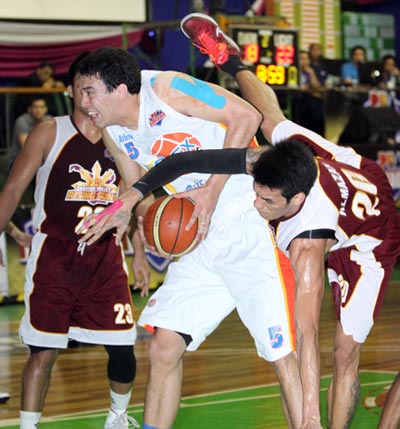 After swatting away two shots in the first quarter, Almazan never got his game going after he was saddled with foul trouble and an ankle injury he sustained in the third period. The Letran center, who entered the game as the league leader in rebounds and blocks, finished with five points and seven rebounds in only 19 minutes.
"We really wanted to attack Almazan right away and take him out of the game," said Fernandez.
NLEX also limited Cagayan Valley's backcourt and guard Eluid Poligrates was the lone bright spot for the Rising Suns with 16 points. Rising Suns main scorer Ping Exciminiano only saw action for four minutes.
"Actually, we are not worried about Almazan because we have Greg and Ian. What I'm worried about were the guards… because they can run very well," Fernandez said.
Edrian Lao had 15 points and 13 rebounds for Cagayan Valley, which held a 62-59 lead near the end of the third.
The scores:
NLEX (84) – Sangalang 18, Long 10, Slaughter 9, J. Pascual 9, Ganuelas 8, Hermida 6, Alas 6, R. Pascual 5, Garcia 5, Salva 4, Lanete 4, Amer 0, Sumalinog 0, Camson 0.
Cagayan Valley (75) – Poligrates 16, Lao 15, Cruz 11, Melano 7, Celada 7, Bringa 6, Almazan 5, Webb 4, Forrester 4, Gusi 0, Bartolo 0, Exciminiano 0.
Quarterscores: 22-18; 41-41; 60-62; 84-75.