DEFENDING champion NLEX was a disappointment on defense again, but its offensive firepower was more than enough to dispose a pesky Informatics side, 88-81, on Tuesday in the PBA D-League Aspirants Cup at the San Juan gym.
The Road Warriors won for the 21st consecutive time dating back to the previous edition of the tournament, but again played lackluster defense as it allowed the opposition to score more than 70 points for the fourth straight time.
"It's not really our offense that sucks, it's our defense that sucks," lamented NLEX coach Boyet Fernandez in describing the three-time reigning champion's defensive intensity against the Icons.
"If we will not change our mentality on defense, we are dead," he added.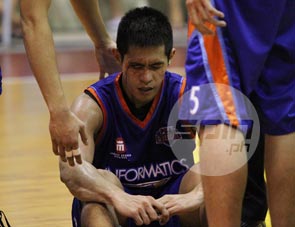 Notwithstanding the close victory, NLEX has now tied the long-time PBA mark of 21 consecutive wins recorded by the legendary Crispa Redmanizers during the memorable 1983 season, according to PBA statistics chief and Spin.ph columnist Fidel Mangonon III.
Five players scored in double figures for NLEX with Ian Sangalang leading the way with 16 points.
"We have to change our attitude on defense. Offense, makaka-score kami anytime," said Fernandez.
Informatics dropped to 0-3 despite its effort to pull off an upset.
NLEX was on top, 53-39, in the third, but once again failed to protect the lead and let Informatics come within four points on a three-pointer by Carl Bryan Cruz in the final two minutes.
But the Icons sputtered in the end as the Road Warriors escaped away with the win.
                        The scores
            NLEX (88) -- Sangalang 16, Alas 15, Garcia 13, Long 12, Hermida 10, Sumalinog 8, Camson 7, Escoto 3, Salva 2, J. Pascual 2, Amer 0, Ganuelas 0, R. Pascual 0.
Informatics (81) -- Rogado 21, Cruz 19, Melegrito 11, Benitez 8, Del Rosario 7, Hayes 5, Bautista 4, Mangahas 2, Carlos 2, Montuano 2, Sanghera 0.
Quarterscores: 22-13, 41-32, 70-59, 88-81.