NLEX made short work of Hog's Breath Café, 99-74, while Blackwater pulled away in third quarter for a 84-72 blowout win over Big Chill at the start of the Aspirants Cup semifinals on Tuesday at the San Juan Arena.
The defending champion Road Warriors set the tone of the lopsided match in the opening quarter with Kevin Alas and Garvo Lanete leading the way.
NLEX and Blackwater Sports, which played in the Foundation Cup finals last year, look to set up another title showdown when the semifinals resume on Thursday.
"It's always nice to win the first game of a series. But I thought we just caught [Hog's Breath Café] on their off night. They missed their shots from the three-point area and they also shoot poorly from the free throw line," offered NLEX coach Boyet Fernandez, is who seeking a fifth championship.
"I'm sure they will be back next game so we got to be ready. This series ain't over 'till it's over," he added.
The Road Warriors shot 54 percent from the field in the first quarter while holding the Razorbacks to 4 of 18 shooting for a commanding 31-12 advantage after just 10 minutes of play.
NLEX enjoyed its biggest lead at 87-53 and 95-61 in the fourth quarter.
Lanete finished with a game-high 23 points on 7 of 15 shooting. Matthew Ganuelas scored 14 points and pulled down nine rebounds, Alas had 12 and four assists while Jake Pascual contributed 11 and 11 rebounds as NLEX enjoyed a 51-47 edge off the glass.
Hog's Breath Café defeated NLEX, 83-78 in the eliminations but they didn't look confident in their rematch against the top-seeded defending champions.
They were tentative and overmatched and their horrendous shooting added to their misery. As if that wasn't enough, coach Caloy Garcia was banished with 3:40 left in the third quarter after picking up his second technical foul.
"That was the disappointing part. I have no idea why I got a T. It was the bench reacted to a call and I got as a T, I don't get it," Garcia said afterwards.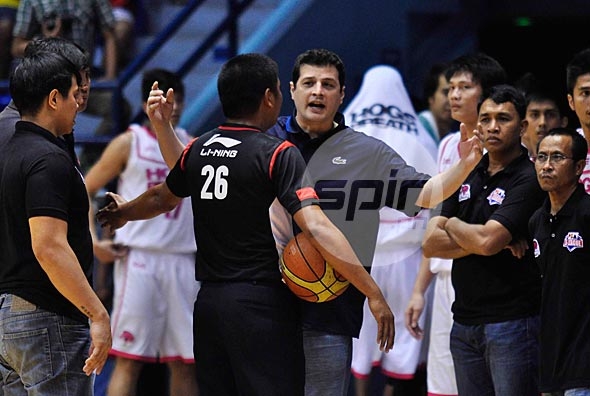 Blackwater Sports took control with an 18-6 run late in the second quarter. The count was tied at 29-all when Kevin Ferrer sank three free throws to spark that decisive spurt that gave the Elite a 47-35 lead at halftime.
Successive 3-point shots by Ferrer gave the Elite a 64-45 advantage late in the third quarter.
The Superchargers rallied in the fourth quarter but got no closer than 70-78 on a layup by Jeckster Apinan with two minutes remaining.
Jericho Cruz scored 19 points, Allan Mangahas had 15 while Ferrer, Pari Llagas and Bacon Austria added 10 apeice for the Elite, who won their fifth straight.
"I thought we executed well on both ends of the court. Hopefully we could finish the series on Thursday," said Blackwater Sports coach Leo Isaac.
The scores:
First Game
NLEX 99 – Lanete 23, Ganuelas 14, Alas 12, Pascual J. 11, Dela Rosa 9, Adeogun 8, Pascual R. 8, Hermida 5, Raymundo 4, Pascual K. 4, Long 1, Dela Cruz 0, Koga 0, Amer 0.
Hog's Breath Café 74 – Publico 13, Ruaya 11, Sanga 10, Allera 9, Gabawan 7, Paniamogan 7, Racal 6, Robles 5, Austria 4, Rios 2, Macasaet 0, Belorio 0, Terso 0.
Quarterscores: 31-12; 45-26; 71-45; 99-74.
Second Game
Blackwater Sports 84 – Cruz 19, Mangahs 15, Ferrer 10, Llagas 10, Austria 10, Bulawsan 9, Ciriacruz 8, Bagatsing 3, Pe 0.
Big Chill 72 – Cervantes 22, Baloria 12, Villahermosa 10, Lozada 10, Mirza 6, Apinan 5, Brondial 3, Canlas 2, Maiquez 2, Heruela 0.
Quarterscores: 21-23; 47-36; 70-52; 84-72.