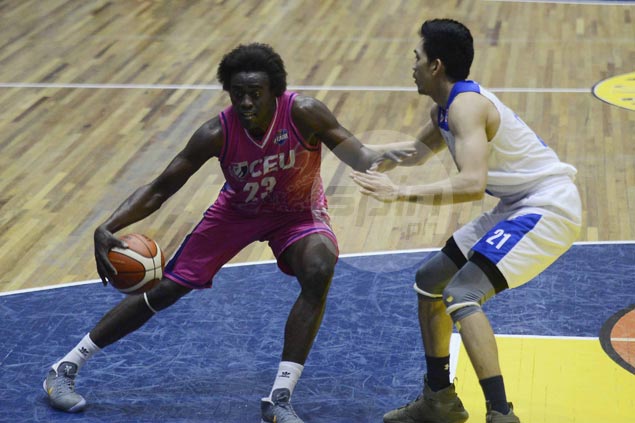 ROD Ebondo had a 20-20 outing as Centro Escolar University routed Che'Lu Bar and Grill-San Sebastian, 105-88, in the PBA D-League Aspirants' Cup on Tuesday at the Pasig City Sports Center.
The 6-foot-6 Congolese center had 28 points, 23 rebounds and eight blocks as the Scorpions scored their second straight victory in the opening conference.
CEU seized control in the second period, 49-35, and never looked back.
The only time the Revellers led was in the first period, 11-10.
Che'Lu Bar and Grill fell to a 2-2 win-loss record.
Orlan Wamar put up a solid game of 18 points built on five triples to go with seven rebounds, three assists and two steals.
Rich Guinitaran and Judel Fuentes combined for 22 points in the first half for the Scorpions.
"Ebondo played his A game. Nakakuha sya ng support from our locals we hope na magtuloy tuloy," said CEU coach Yong Garcia.
Che'Lu Bar and Grill fell to a 2-2 win-loss record.
RK Ilagan paced the Revellers with 18 points, Allyn Bulanadi scored 13 and Jeepy Faundo added 12.
The scores:
CEU 105 — Ebondo 28, Wamar 18, Fuentes 14, Guinitaran 14, Aquino 8, Arim 6, Manlangit 6, Cruz 5, Caballero 2, Intic 2, Saber 2.
Che'Lu 88 — Ilagan 19, Bulanadi 13, Faundo 12, Calisaan 11, De Leon 8, Batino 5, Capobres 5, Valdez 5, Jeruta 4,Baetiong 2, Costelo 2, David 2, Santos 0.
Quarterscores: 25-20; 51-42; 79-67; 105-88.