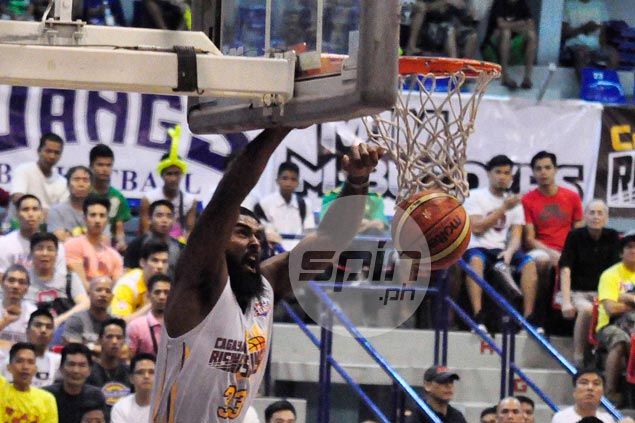 ABEL Galliguez converted the game-winning triple with one second left as Cagayan Valley came away with a huge 80-77 victory over powerhouse Hapee on Thursday to stay unbeaten in the PBA D-League Aspirants Cup.
With the Rising Suns out of timeouts, Galiguez broke a 77-77 tie when he found himself wide open for a triple, sending the crowd at the Ynares Arena in Pasig City into a frenzy.
Garvo Lanete missed a wide-open triple on the other end, and the Rising Suns sealed the No. 1 spot regardless of the result of their last match of the eliminations on Monday.
The Rising Suns are unbeaten in 10 games as they withstood a late Hapee fightback from eight points down in the final two minutes.
Moala Tautuaa scored 24 points for the Rising Suns, who will play Wangs Basketball in their final game of the eliminations.
But it was Galliguez, a 24-year-old Fil-American from Houston, who stole the show in the endgame as his basket saved the Rising Suns from a monumental collapse.
"My teammates trusted me to take the shot," said a jubilant Galliguez. "I was like, 'It's a tied ballgame, let's put this game away and I'm going to take the last shot.'"
Hapee lost for the first time this conference to cap the eliminations with a 10-1 win-loss slate after seeing a 16-point first half lead slip away. The Fresh Fighters were also able to come back from a 77-69 deficit to tie the game on two free throws by Troy Rosario with 10 seconds left.
The highly physical first half saw four technical fouls and three flagrant fouls called.
The scores:
Cagayan Valley (80)—Tautuaa 24, Galliguez 16, Trollano 11, Austria 9, Mabulac 8, Celada 6, Santos 2, Salamat 2, Flores 2, Olayon 0, Dilay 0, Capacio 0, Melano 0. Tayongtong 0.
Hapee (77)—Parks 17, Rosario 12, Adeogun 10, Lanete 10, Newsome 9, Elorde 4, De la Cruz 4, Hayes 4, Thompson 3, Amer 2, Long 2.
Quarterscores: 12-25; 30-41; 58-61; 80-77.