AS he buried the three-pointer that finally put an end to a shooting drill/challenge that had been taking long, and signaled the end of one Marinerong Pilipino practice, Mark Isip let out a shriek of relief, although it seemed like he was still up for more.
It hardly looked like he was the oldest player on the court that time as the 36-year-old cager displayed the youthful zest that he has rediscovered in his reunion with college coach Koy Banal.
And that has convinced Isip, a 10-year PBA veteran, to move down a level in the D-League, playing for one of its newest teams in the upcoming conference.
"I wanted to play again for him … to rekindle the college type of basketball," Isip said in a chat with SPIN.ph after practice, referring to Banal, who steered Far Eastern University to back-to-back championships in 2003 and 2004.
"I wanted to go back there, yung feeling, yung fire, the passion, something I was looking for," he added.
Banal was simply glad his college ward accepted his invitation, especially with his rookie team in need a leader to look up to in its maiden stint in the developmental league.
Isip fits the bill.
Continue reading below ↓
Recommended Videos
"Kung PBA player ka and you still want to play, and you feel like you still have that spunk to play in the PBA, minsan medyo reluctant ka. Dun ka muna. Pero yun nga, nag-agree siya sa amin," Banal said. "And so far, positive naman ang turnout. Everybody's responding to his leadership."
"I believe yung leadership niya can help these players to go to the next level," he added.
[See Banal brothers relish D-League reunion]
Isip, a member of those two Banal champion teams at FEU, may be past his prime, but he believes he still has what it takes to make it back to the pros.
"If it is (a stepping stone back), syempre," Isip beamed. "If they want my services, of course."
"If not, I'm at peace," he was quick to add. "Ang thinking ko, I'm still playing the game that I love. I still have the capacity to play it. If I could pass a little bit of knowledge and experience - not just on the basketball court, but life itself."
And that's what he's been doing at Marinerong Pilipino, acting as a second coach to his younger teammates on the court as well as to kids during their clinics.
"It's giving up something of your own to the next generation, the lessons of playing for different coaches and different teams, you want to share that to others – what to expect, how to be a professional player - as early as nandito sa D-League," Isip said.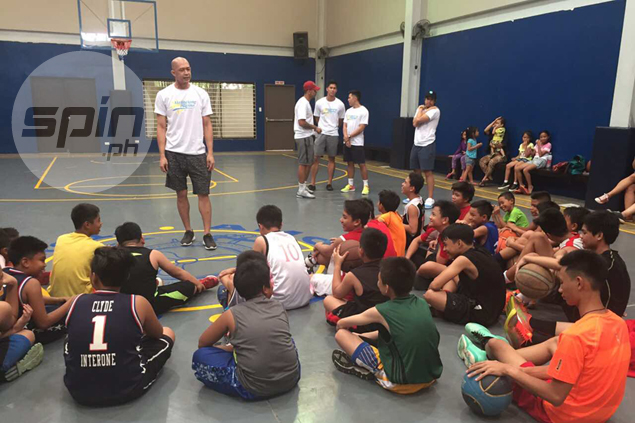 And there are a few things that are more fulfilling than that, Isip, who last played for GlobalPort last season, said.
"In a way, you're changing the life of not only one person here," Isip said. "If you touch his life, if he learns something from you, if you taught him anything, he could use it. His family is also going to know it. He's going to share it, touching one person tapos magdo-domino effect."
"And maybe in the future, he'll be the one who'll be talking to the young generation, and sharing the things that I've taught him," he added.
But first, Isip is focused on the task at hand – leading his D-League to contention.
"That's the goal. Anything short of a championship is a failure," Isip said. "So make the most out of it every single day, every single practice, every single time we talk to the guys."
Does he have to play like his vintage self for them to contend? Isip, who had his best PBA season in 2010-11 when he averaged career-highs of 11.5 points, 5.6 boards, and 24.3 minutes for Barako Bull and Meralco, would rather let his game do the talking.
"We'll see," the 6-foot-4 power forward said. "The only way to find out is come our first game. I don't want to (get ahead of myself)."