THE historic stint of a woman referee in a PBA D-League game on Thursday is just the latest step in a plan to have female officials eventually working pro league games, said Commissioner Chito Salud.
Salud bared that seven female referees have been with the league's academy for six months now and have in fact been tapped to officiate tune-up games of D-League teams during the offseason as part of their training.
One of them, Mary Jane Umaña, became the first-ever female referee to officiate a PBA D-League game on Thursday when she worked the KeraMix-Livermarin match at the Ynares Sports Arena.
[See Umana makes history as first woman ref to work a D-League game]
Salud said a woman referee will eventually make it to the PBA, but the commissioner assured they won't be elevated unless they are ready for the challenge in the pro game, just like any other game official.
"I don't know," Salud said when asked by Spin.ph on when the PBA will elevate its lady referees. "It will take time. We will not hurry it up just for the sake of having a lady referee officiate in the PBA.
"We want them to be seasoned completely before thinking about allowing them to officiate in the PBA. We don't want them to go out there, like any other referee whether male or female, na hindi completely prepared."
Continue reading below ↓
Recommended Videos
Salud bared the members of the women's pool of referees either applied or were recruited by the league. However, not all of them will officiate the matches in the PBA D-League this conference.
"Only four of the seven will officiate (D-League games) where they will be re-evaluated on whether they will continue to officiate for one conference, either some of them or all of them," Salud said.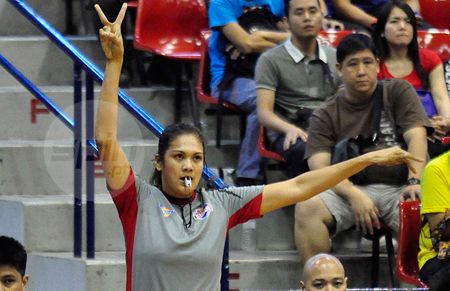 Umaña actually had a busy day in her first game as a PBA D-League referee, which was marred by two near scuffles. KeraMix's Jan Jamito was thrown out of the game late in the third quarter after incurring a second flagrant foul.
Salud assured the lady referees will be ready for any situation by the time they made the jump to the pros.
"We will be nurturing and nursing them along the way before we finally see one," Salud said.