BRT Sumisip Basilan-St. Clare forced a deciding Game Three in the 2019 PBA D-League Foundation Cup Finals with a 74-60 victory over Marinerong Pilipino Wednesday at Cuneta Astrodome in Pasay.
Jessie Collado led the Saints with 20 points on an efficient 8-of-11 shooting from the field, to go with six rebounds as they dealt the Skippers their first defeat in the second conference, snapping their nine-game winning streak.
"As the leader at siya ang pinaka-senior, ayaw niya matapos series. Binigay niya lahat," said coach Stevenson Tiu.
Joshua Fontanilla also added 14 points, five assists, and three boards, while Malian center Mohammad Pare was a menace in the paint with his double-double of 12 points and 10 rebounds in the huge Game Two win.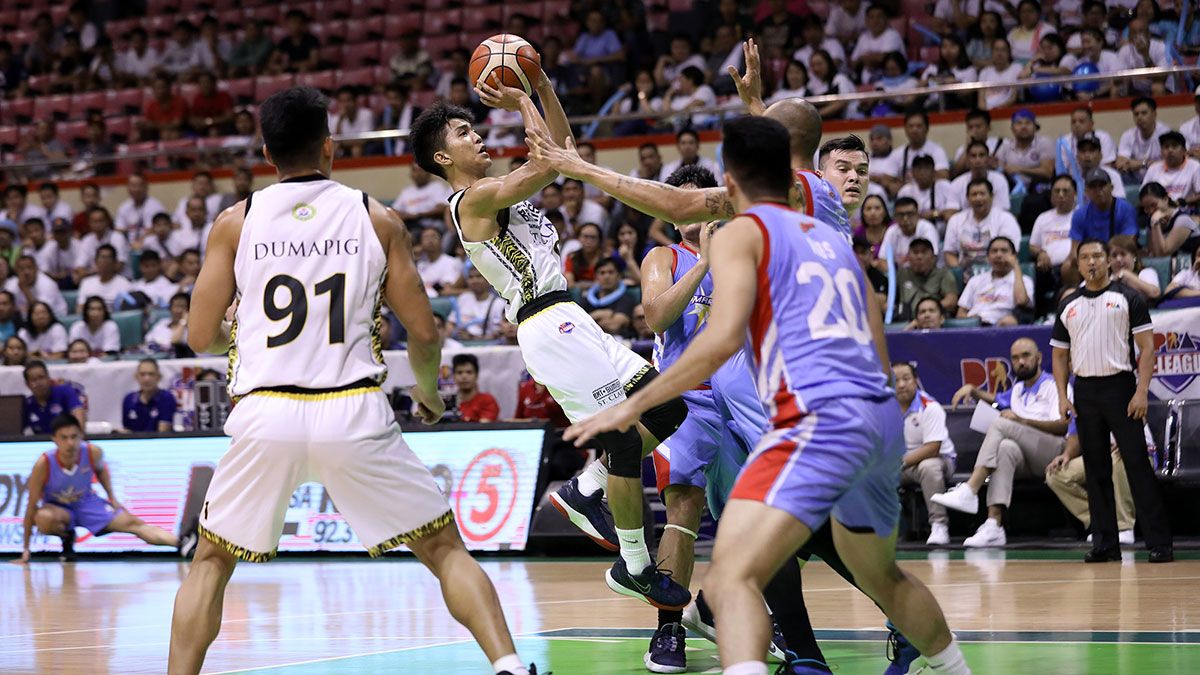 Continue reading below ↓
Recommended Videos
BRT Sumisip-St. Clare was quick to assert control of the game with a 15-5 opener that saw the lead swell to as high as 24, 46-22, behind an Alfred Batino bucket late in the second quarter.
It was cruise control for the Saints from that point on, with Jhaps Bautista also adding 11 points and four rebounds in the win.
"Obviously mas may energy kami ngayon, especially on defense," said Tiu.
The win forced a winner-take-all Game Three affair between BRT Sumisip-St. Clare and Marinerong Pilipino, set on Monday at Paco Arena.
"As long as we have a chance to win, talagang ipapanalo namin," said Tiu. "Ganoon yung teaching natin sa mga bata ngayon. We keep on reminding them na hangga't may game, we have a chance to win."
Byron Villarias led Marinerong Pilipino with 11 points as it saw its gunners silenced, shooting only 30-percent from the field including a 4-of-19 shooting from deep.
The Skippers also held Conference MVP Eloy Poligrates to just two points in the loss.
The Scores:
BRT SUMISIP BASILAN-ST. CLARE 74 -- Collado 20, Fontanilla 14, Pare 12, Bautista 11, Batino 8, Gabo 4, Palencia 2, Dumapig 2, Hallare 1, Rubio 0, Penaredondo 0, Manacho 0, Tiquia 0.
MARINERONG PILIPINO 60 -- Villarias 11, Clarito 9, Yee 8, Alabanza 8, Santillan 5, Sara 5, Rios 4, Ilagan 4, Poligrates 2, Ayonayon 2, Reverente 2, Diputado 0, Mangahas 0, McAloney 0, Solis 0.
Quarters: 23-11, 46-24, 62-43, 74-60.