AARON Black bet on himself, and seven-and-a-half months removed from his decision to leave Ateneo and test his luck elsewhere, the 23-year-old is thriving.
The son of PBA great and current Meralco coach Norman Black has been on a tear as he pulls a double-duty with AMA Online Education in the PBA D-League and with Quezon City Capitals in the Maharlika Pilipinas Basketball League (MPBL).
"I had to do what I had to do," said the 6-foot-1 guard, exuding in confidence yet ever grateful for the opportunities he's had in his alma mater.
"I love Ateneo. Ateneo was my home for 14 years so I love it over there, but you know, I had to do it."
Black announced his decision to forego his fifth and final year with the Blue Eagles earlier this year, citing his need to further improve himself in hopes of making it to the PBA.
ADVERTISEMENT - CONTINUE READING BELOW ↓
And he has taken every opportunity to do so.
"I think the the trip to the United States, I trained with coach Joe Abunassar, as well as me now playing for two teams, it's helped a lot on my development and my experience. Playing against a lot of veterans, it's been helping a lot and I think I'm I'm happy with where I am right now," he said.
The proof is in the pudding for Black.
With the Capitals, he's been a steady contributor, netting 10.7 points on a 50-percent shooting clip, on top of 7.7 rebounds, 5.1 assists, 1.0 steal, and 1.0 block in the seven games he's played in the ongoing MPBL Lakan Cup.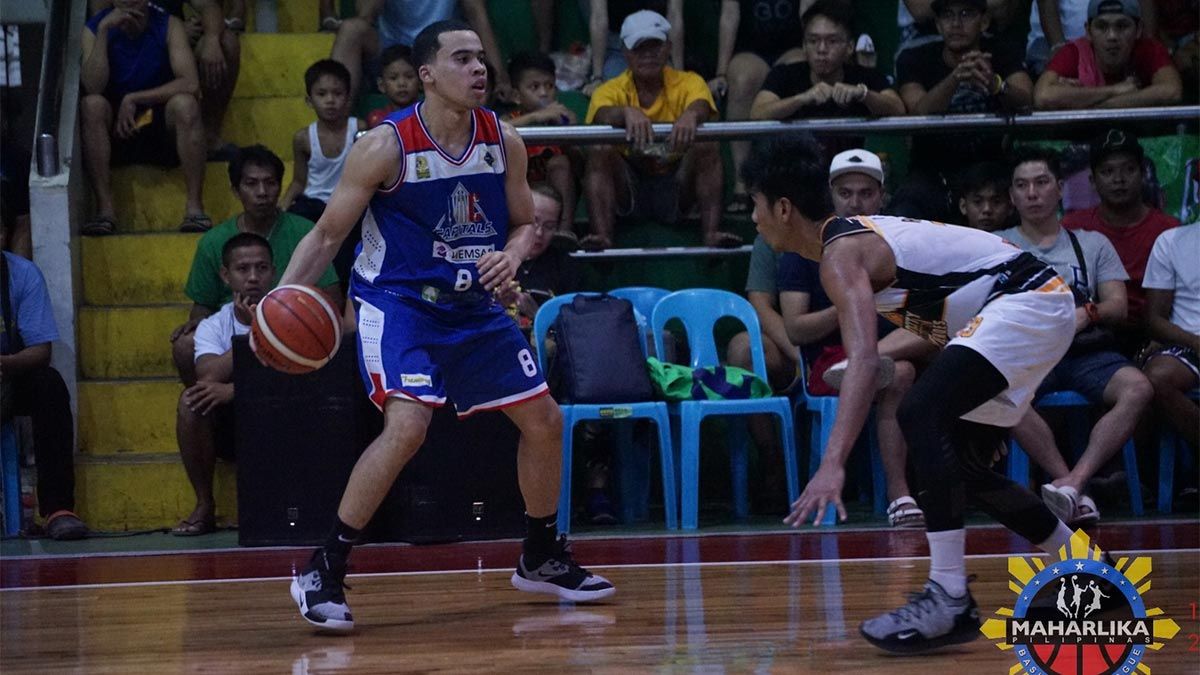 ADVERTISEMENT - CONTINUE READING BELOW ↓
Through four games for the Titans, he's also averaged 21.0 points on a 42-percent shooting, along with 12.0 rebounds, 9.8 assists, 2.3 steals, and 1.3 blocks in the 2019 PBA D-League Foundation Cup.
He also recorded triple-doubles in his first two games in the developmental ranks, becoming only the third player, behind Mike Tolomia and Jeron Teng, to achieve the feat multiple times.
As expected, the opponents have taken notice, zeroing in on Black whenever he's on the court and denied him from reaching the statistical feat since.
"I mean, it's hard to get a triple double every game especially when you got teams focusing on you," said Black.
But more than the numbers, it's the collective success which Black craves for the most, especially for AMA which sits with a 1-3 card.
"I'm still not satisfied. We didn't get the win, so I'm not happy with it," he rued as the Titans now face an uphill climb to make it to the quarterfinals with two games remaining in their eliminations schedule.
ADVERTISEMENT - CONTINUE READING BELOW ↓
"If I can just get my teammates more involved maybe next game, I think I'll be okay. Scoring-wise, I think I played well but it's never a good day if you don't win, so that's a big thing for me. I want to win and I think we have a good chance of making it to the playoffs if we play together."