IF someone was keeping count, the Global Hoops Street ball tournament on Saturday night at the Mall of Asia Arena might have a record for "most dunks and highlight reels" in a basketball game.
Court Kingz, representing Team USA, was the star of the night as it wowed a crowd of several thousands present at an event that combined the visual and acoustic with basketball matches interspersed with performances by local rappers led by GLOC 9 and Andrew E.
The three teams from the USA, China and the Philippines took turns playing each other in two 15-minute halves that were practically street ball matches inside an air-conditioned arena, with the highlights mattering more than the final score.
Ankle breakers, slam dunks and crossovers were the norm in the King Bally-organized event with SPIN.ph as one of the media partners.
Coached by former Gilas skipper Jimmy Alapag, Team Philippines was composed of a mix of streetballers topped by Lil' Flash and Nino Ventura reinforced by PBA pros that included Willie Miller, Don Allado and Ronjay Buenafe. The Pinoys held their own during the exchange but were mostly there to serve as opponents for their flashier foreign counterparts.
ADVERTISEMENT - CONTINUE READING BELOW ↓
China was represented by Team RPZ led by spitfire guard More Free who unveiled a silky touch from the perimeter to complement his wicked handles on the ball. Flashy forward Helmet gave fans several examples of 360 degree dribbling that bears strong comparison with the moves of Shaolin monks in "wire fu" films. He later donned a motorcycle helmet with multi-colored dreadlocks during a match against the Filipinos.
But it was the Americans who brought the house down soon after they finished a prayer circle on the court and went down to business as top-tier hoops showmen. Fan favorite Hot Sauce drew comparisons with Allen Iverson with his looks, offcourt persona and slick ball-handling that left his defenders guarding nothing but air.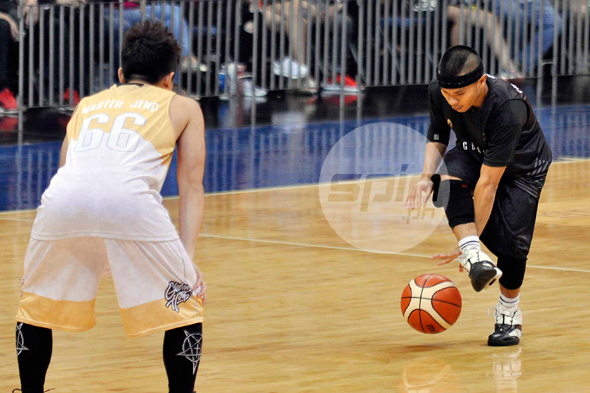 Street ball legend Hot Sauce was happy with the turnout and his role in the proceedings.
"It feels good man, just to come in and do a little for the crowd. I already put in the work and paved the way for the younger guys and that's what its about man. I love the crowd man. You know I was a fan tonight."
Deshawn Stevenson look-alike Mr. Viral tried to posterize every opponent with an array of vicious slams - an inadvertent slap on the face from Jeron Teng failed to stop Viral from coming back and putting on a dunkfest. Taking up the slack were Jumping Joe, Jumpman and big man Megatron who unleashed rim rattlers of their own.
On the ball-handling department, Zig Zag was a whirling dervish as he displayed boomerang and zero gravity dribbling to loud applause. At one point he suddenly stood on the basketball circus-style during an offensive set. He was also responsible for a 360-degree pass that led to a windmill dunk.
ADVERTISEMENT - CONTINUE READING BELOW ↓
The biggest cheers, however, were reserved for Mani Love, a 4-5 guard (what else could he be?) who made Muggsy Bogues look like Shaquille O'Neal. The New Yorkers' whose diminutive frame masked a certain type of toughness and a knack for pinpoint passes that led to alley oop dunks for his teammates. He delighted the audience with a "dunk" of his own when he was carried by a teammate.
The Filipinos also displayed their own brand of street ball as Lil' Flash put on moves of his own.
The US and Chinese teams received awards after the game and the players made themselves available for the fans who lined up for the modern version of the autograph- selfies- from their new idols.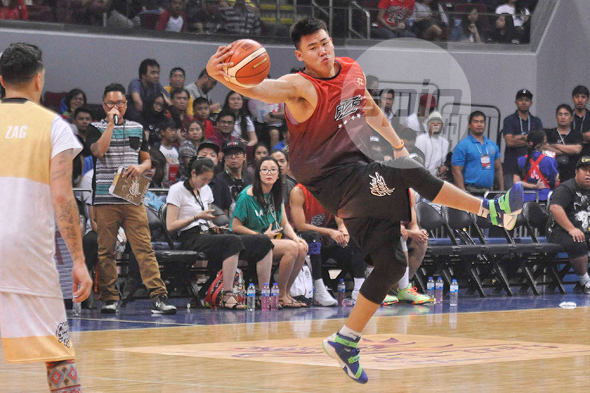 ADVERTISEMENT - CONTINUE READING BELOW ↓