Grin and bear it. 
The limp ending to The Last Home Stand has, predictably, become a fodder for internet jokes and memes. Trust the Filipino to resort to wry humor when faced with the most absurd situation or abject failure. Before the national anger over the aborted basketball series could even subside, fans were already scoring points with their funny quips and quick wit.
Like these fans, we at Spin.ph appreciate people who look on the bright side of life. See if you are amused - as we are - by some of their genius.
Easily a standout among our readers' funny take on The Last Home Stand farce was this: "Watch the televised game of Gilas Pilipinas - NBA All Stars "Gilas: Last Home Stand" at Wow! Mali, Sunday, 7pm, TV5." It's in reference to the local comedy show that's notable for its pranks on unsuspecting victims.  
PLDT, which organized the event, was given a new meaning by some commenters. To them, the company's acronym now stands for "Practice Lang Daw Talaga!"  
As he watched the NBA stars and Gilas players take part in drills, a fan jokingly typed: "Tuloy ang PE on national TV". Another quipped: "Dapat kasama si chris tiu e haha #TIUtorials".
Hashtags such as #GilasLastHomeDrills began sprouting.
San Antonio Spurs young gun Kawhi Leonard, the MVP in the recent NBA Finals, became an easy target. "25k pra sa kaway ni LEONARD!!!!," wrote one fan. 
Quips like those are a reminder that what was unfolding before the fans' very eyes was, hands down, the year's priciest entertainment show.
Pinoys are also getting better at sarcasm. "Sayang. Ang ganda pa naman nung 1st day," one said after the last of the two-day series was cancelled.
"Kasi naman eh, gusto NBA pa kalaban eh talunin nyo muna Iran," said another reader, referring to the reigning Asian champions who, along with Gilas Pilipinas, will be playing in the World Cup in Spain.
Here are examples of some memes: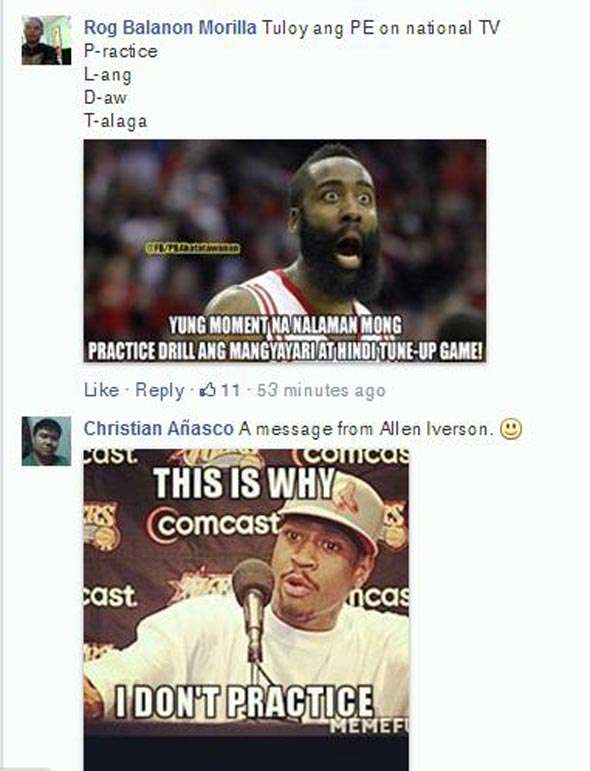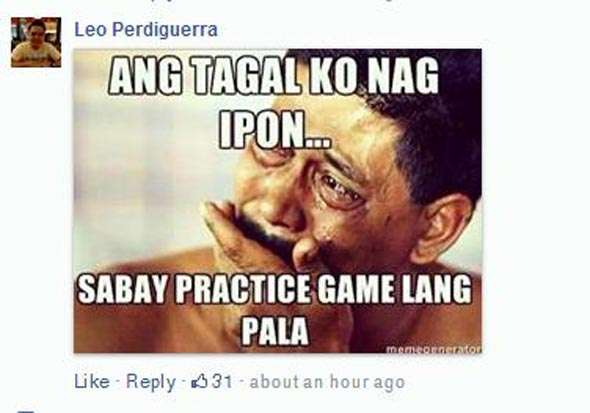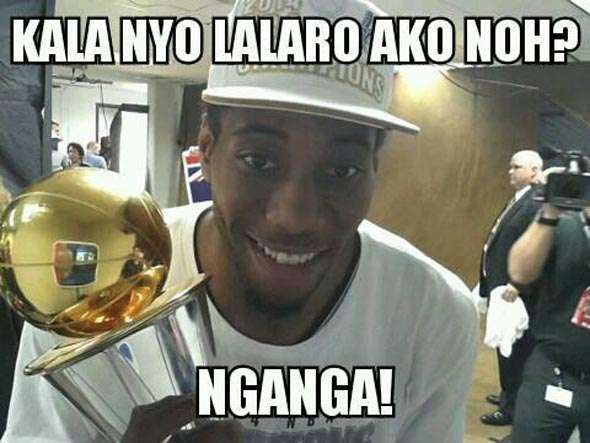 More news about the cancelled Gilas-NBA game:
NBA says Manila organizers did not take 'required steps' to comform with league's CBA rules
Amid furor, support and admiration for MVP after apology for mess
According to an insider, the group of top basketball patron Manny V. Pangilinan will end up footing a US$4.6 million bill, or around P200M.
Gilas Pilipinas tune-up game cancelled as NBA players barred from playing in 'unsanctioned event' 
Samahang Basketbol ng Pilipinas president Manny V. Pangilinan himself apologizes for the foul-up that caused the cancellation
Some officials now face the ax after the embarrassing cancellation of the event, according to a source
Even the Gilas Pilipinas players were surprised with the sudden change from game to mere workout with NBA players
The NBA players actually met the morning of Tuesday after receiving threats of possible suspensions from the US league
Commissioner Tamano warns of sanctions as GAB looks into Gilas-NBA 'farce'