CEBU – After two exhausting days of deliberation, the Cebu Provincial Sports Commission suspended referees and ordered a replay of the overtime session in a controversial Governors Cup game between defending champions Minglanilla Archangels and the Naga Electrifiers.
A bizarre end to the thrilling game led to a dilemma for organizers as Naga thought it had won the match, 93-91, after Justin Atilano banked in a three-pointer at the buzzer, only to find out that it had six players on the floor during that final play.
The Archangels immediately put the game under protest. Organizers met with game and team officials over the last two days to come up with an amicable solution.
In a resolution, the organizers called the failure of both the referees and table officials to notice that Naga had an extra player on the floor as "deeply lamentable and inexcusable."
The organizers also slapped an indefinite suspension on all referees and game officials involved in the game and banned them from taking part in any game in the tournament's south division.
The resolution also found Naga's coach, Renato Alforque, to be partly liable, saying it was his responsibility to make sure that the substitution was effectively carried out.
"There is no doubt that the presence of six players in the play put the Minglanilla Archangels at a great disadvantage in executing their defense," the resolution read.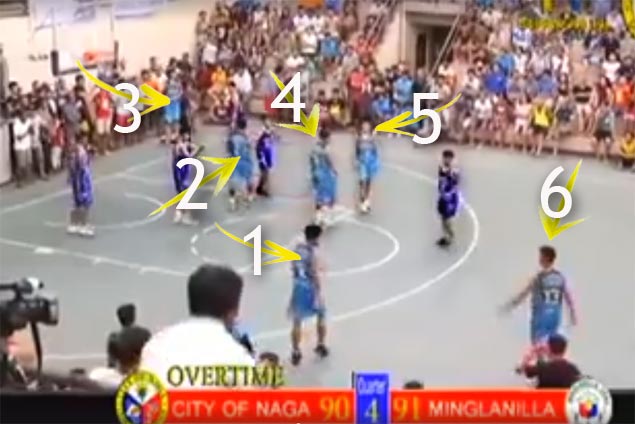 Organizers explained they could not assess a technical foul on Naga for having more than six players on the floor since time had already expired. In the same breath, they could not count the basket made by Naga as it would be a "grave injustice" to Minglanilla.
With that, the tournament's technical committee made the call to replay the five-minute overtime session as soon as possible, with all conditions prevailing after regulation to be observed.
Cebu Provincial Sports Commission executive director Atty. Ramil Abing said he hopes the spirit of sportsmanship will prevail after the verdict.
"I sincerely hope, in the spirit of sportsmanship and greater interest of the league, both parties will heed and understand the decision of the committee. The incident is a lesson learned for all the officials and should strengthen the Governor's Cup."