CEBU CITY - As the saying goes, 'let lying dogs lie.'
In the latest edition of the south's most bitter collegiate basketball rivalry, Macmac Tallo led the decisive run for Southwestern University-Phinma after hitting the deck hard on a foul dished out by the University of the Visayas Green Lancers.
Sweat still pouring long after the game won by the Cobras, 65-57, Tallo relayed to SPIN.ph he used that bad fall as motivation, even pointing to UV's bench tactician Gary Cortes several times after he got up clutching his wrist during the scary play.
"Galit talaga ako nun. I was told by a former UV player that they really practice those kinds of plays so I really expected that to happen at some point in the game," said a fuming Tallo.
Tallo didn't retaliate but got his payback late in the game when he scored seven straight capped by a booming three-pointer that brought his Cobras back from a 54-57 deficit.
"It was really extra motivation for me," said the two-time Cesafi MVP who is playing in his last year for the Cobras before trying his luck in the PBA D-League next year.
[See Tallo leads SWU Cobras to first-round sweep in Cesafi]
Continue reading below ↓
Recommended Videos
Cortes, however, was quick to play down the incident, saying they were just trying to rile Tallo up.
"We like it better when Macmac (Tallo) goes hard. But really, it was the same Tallo before and after that play," said Cortes, a defensive sentinel during his playing years for the Green Lancers.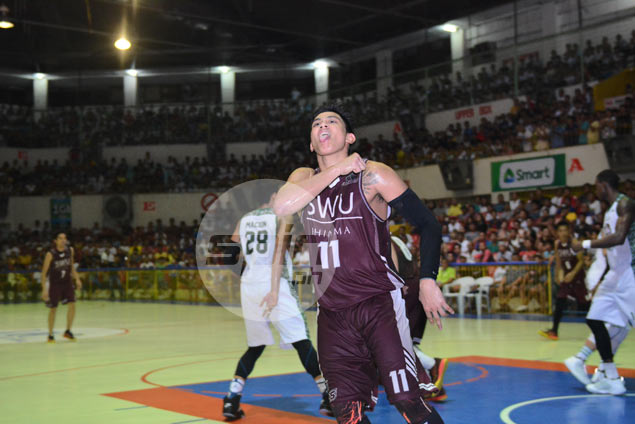 More than Tallo, Cortes said that his team's lack of focus and intensity did them in in the game watched by a sellout crowd at the Cebu Coliseum.
"It wasn't our night. It wasn't our game. We were the ones who defeated ourselves. The team never really gave their best, not even in practice. They were content with the number of wins we had," Cortes quipped.
Cortes also mentioned that he had already warned his boys about their seemingly cavalier approach to the big game but clearly, the admonition fell on deaf ears.