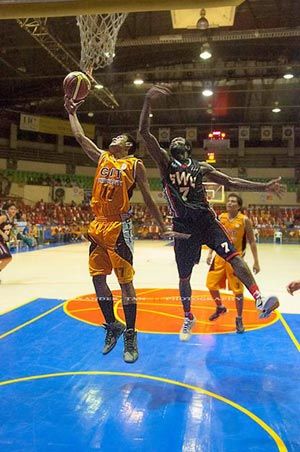 CEBU CITY — Cameroonian import Landry Sanjo put Southwestern University on his broad shoulders and carried it to a 75-67 victory over Cebu Institute of Technology-University in the Cesafi men's basketball tournament on Friday at the Cebu Coliseum.
The 6-foot-7 Sanjo scored 36 points, 12 coming in the final three minutes capped by a dunk that sealed SWU's sixth win in seven outings to tie the idle University of San Carlos at the top of the standings.
Starting guards Jasper Parker and Jovanie Luz were added to the injured list that already had starting forward Adams Mohammed, who has yet to play a single game this season, and reserve forward Daryl Goloran.
Sanjo also had 19 rebounds, five assists and two steals to make up for the horrible 11-point show by MVP Mark Jayven Tallo, who shot 5 for 15 from the free-throw area.
Anton Pardo and Bernie Gregondo had 10 points each for the Cobras.
The Wildcats rallied to take the lead, 59-58, after a triple by lefty guard Franklin Batiquin, 3:28 to go. But Sanjo tag-teamed with power forward Bernie Bregondo to dominate the undersized CIT-U frontline, plucking offensive rebounds and fishing fouls that were turned to easy points for a 63-59 lead.
CIT-U pulled to within two but Pardo hit a three-pointer and Sanjo scoed on an uncontested layup to push SWU ahead, 68-63. Three-pointers by Batiquin and Allan Dimco kept the Wildcats within striking distance but Sanjo proved too much to handle as he hit three from the line and hammered the final nail in CIT-U's coffin with a tomahawk slam at the final buzzer.
Dimco paced CIT-U (2-5) with 17 points while Batiquin ended up with 15.
However, league top scorer Joshua de la Cerna had only six points.
In the juniors division, Sacred Heart School-Ateneo de Cebu won their seventh game in a row, downing Cebu Eastern College, 88-45.
The scores
Seniors
SWU (75) - Sanjo 36, Tallo 11, Bregondo 10, Pardo 10, Lagbas 4, Valdor 3, Acuno 1, Labitad 0, Racho 0, Holper 0.

CIT-U (67) - Dimco 17, Batiquin 15, Undaloc 9, Dela Cerna 6, Bucao 5, Lucena 4, Pono 4, Aloro 3, Kong 2, Taghoy 2, Patiño 0.

Quarterscores: 18-10; 29-26; 49-43; 75-67.
Juniors
SHS-AdC (88) - Jaboneta 16, Longa 15, Sinclair 10, Huang 8, Araw-Araw 6, Chua 6, Calumpang 5, Mantua 5, Co 4, Johnson 4, Visser 4, Mayol 3, Velasco 2, Gaviola 0, Nacua 0.

CEC (45) - Buli-Buli 17, Mate 14, Dellona 7, Tecson 3, Cinco 2, Dela Sierra 2, Leopoldo 0, Astillero 0, Gabutero 0.

Quarterscores: 19-17; 39-26; 62-37; 88-45.