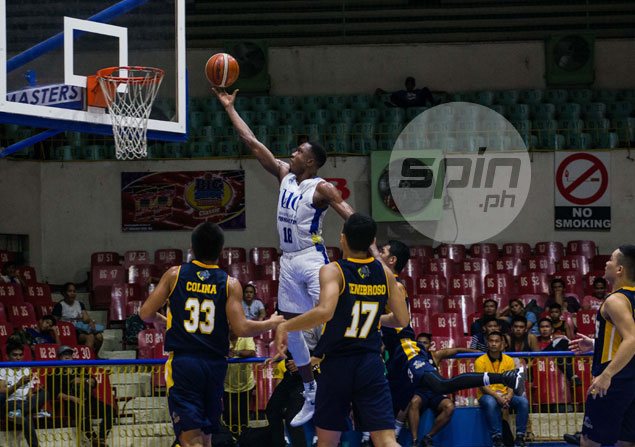 CEBU CITY – The University of Cebu Webmasters bolstered their bid for a spot in the Final Four with an 81-55 rout of the University of Southern Philippines Foundation Panthers in a wild game marred by a bizarre finish in the 17th Cesafi men's basketball tournament on Thursday night at the Cebu Coliseum. 
Though the result was hardly in doubt in the fourth, tempers flared and ultimately boiled over with 1:17 left when USPF guard Clyde Avancena threw an errant pass to teammate Mark Tenebroso that narrowly missed referee Roland Yamelo. 
Yamelo, who had already been accused by the USPF bench of not giving them a fair shake of the calls during the game, immediately approached Avancena from behind and allegedly threatened to beat up the latter outside after the game.
Forward Roy Quiachon heard the conversation and quickly defended his teammate, confronting Yamelo, leading to some pushing and shoving. Several coaches and players also ran on court to confront the said referee, with police officers being needed to prevent the situation from getting worse.
The aftermath saw Quiachon getting ejected from the match. But just when the game was about to restart, things got even more bizarre. UC head coach Yayoy Alcoseba stormed the floor and demanded that the entire USPF squad be thrown out of the game for entering the floor during the commotion.
Cesafi deputy commissioner Danny Duran quickly acceded, calling off the game, and brought all the officials back to their dugout, leaving USPF on their bench, fraught with confusion and looking for answers.
"We were ready to finish the game and accept our defeat. But when Coach Yayoy demanded that we all be ejected. We were surprised why everyone started walking out," said a distraught Albert Alocillo, USPF's head coach.
"If we were all ejected, there were still five players who were playing inside the court and still legal to play," he added.
Both Avancena and Tenebroso, the USPF players who miscommunicated on the said pass that incensed the referee, confirmed that they had no malicious intentions whatsoever. 
"Why would I do such a thing? We were all just trying to finish the game as we were beaten already," said Avancena. "I just got heated when he threatened me." 
Tenebroso explained that he was cutting backdoor as his defender was overplaying him. Avancena apparently did not get the message and instead threw the pass to the perimeter.
ADVERTISEMENT - CONTINUE READING BELOW
Team manager Brian Jereza also revealed that he had already specifically requested to league officials to not let Yamelo officiate their game because of prior run-ins.
SPIN.ph spoke to Duran on Friday morning and he explained that he was on his way to USPF's side of the floor to explain the decision but decided against it upon seeing that they were still heated.
He also divulged that they were meeting with Deputy Commission Marvin Panares to review the video footage, investigate the matter and eventually come up with a decision especially since USPF has a game on Saturday.
UC's Cameroonian forward Frederick Elombi had another monster game, tallying 21 points, a whopping 30 rebounds, two assists, five steals and four blocked shots. The Webmasters remained in the fourth spot at 5-4 while USPF fell to 3-6.
The Scores:
UC (81) Elombi 21, Jabello 13, Puerto 12, Codilla 7, Tagudin 7, Olmilla 6, Dacalos 6, Naong 2, Macasil 2, Kishimoto 2, Gonzaga 2, Galay 1
USPF (55) Colina 12, Cuyos 10, Villarta 9, Cada 8, Cauba 7, Batac 4, Mangyao 3, Meca 2
Quarterscores: 21-4, 44-13, 62-31, 81-55