CEBU CITY – Cebu' collegiate basketball scene comes alive on Saturday when Season 14 of the Cebu Schools Athletic Foundation Inc. (Cesafi) unfolds at the Cebu Coliseum.
With defending champion University of Visayas hard-pressed to go for a second straight championship following the departure of key members from last year's title squad, this year's tournament is touted as a wide-open affair.
Prior to the season-opener, Spin.ph takes a closer look at the competing teams, their respective rosters, and what await them for the rest of the tournament.
University of the Visayas Green Lancers
Head Coach: Felix 'Donbel' Belano
1. Abad, John Michael
2. Aguara, Jeffakins
3. Aguirre, Alwin
4. Arong, Francisco
5. Codilla, Alfred
6. Manzo, June Kent III
7. Marquez, Miko Adam
8. Mpouma, Jean Marie
9. Napao, Jerome
10. Oche, Alvin Matthew
11. Octobre, Raffy
12. Perolino, Chris Yonnel
13. Santillan, Leonard
14. Segumpan, Josue
15. Soliva, Jan Monic
After its historic come-from-behind win to bag last year's title against bitter rival Southwestern University, the Green Lancers opted to clean house in a bold move by school management that left the team without key players led by former Rookie-MVP Wowie Escosio.
Coach Felix Belano said he's puzzled with Escocio's steady decline that left the team with no choice but to drop the 6-foot-5 bruiser from its roster.
"(Wowie) Escosio had a great first year. But after that, bumaba na ang laro niya. Feeling namin, hindi na siya makakatulong sa amin this year, that is why we didn't include him sa lineup," Belano said.
Even with eight new players being integrated into the team now led by left-handed guard John Abad, the Lancers remain solid with the presence of national youth team member Leonard Santillan and two new imports - 6-foot-11 Jean Marie Mpouma and 6-foot-7 Jeffakins Aguara from Nigeria.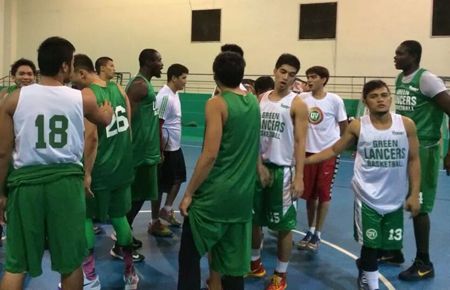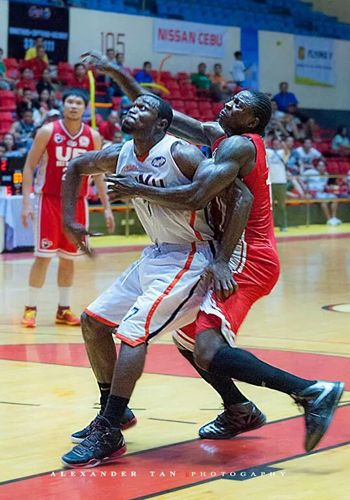 Southwestern University Cobras
Head coach: Raul Alcoseba
1. Acuno, Rey Mark
2. Bregondo, Bernie
3. Holper, Melvin
4. Labitad, Kim Anthony
5. Lagbas, Dan Audris
6. Landry, Nkiwim
7. Luz, Jovanie
8. Mohammed, Adams
9. Pardo, Antonio Tomas
10. Parker, Jasper
11. Racho, Mark Christopher
12. Tallo, Mark Jayven
13. Aboude, Justin
14. Goloran, Daryl
Coach Raul `Yayoy' Alcoseba stressed the success of the Cobras this season will hinge on their ability to bounce back from last year's heartbreaking collapse in the Finals against the Green Lancers.
Leading the best-of-five series, 2-0, the Cobras were poised to repeat as champions before the Lancers got their act together and stunned Southwestern University by sweeping the last three games to claim the title.
The Cobras lost starting two-guard Monbert Arong, who opted to transfer to Far Eastern University, but more than made up for it by acquiring talented Fil-Am guard Jasper Parker, shooter Anton Pardo, and former FEU Baby Tamaraw Jovanie Luz.
Add to it the potent inside-outside combination of reigning MVP Mark Jayven Tallo and Cameroonian import Landry Sanjo, and the Cobras are once again tipped to contend for the crown.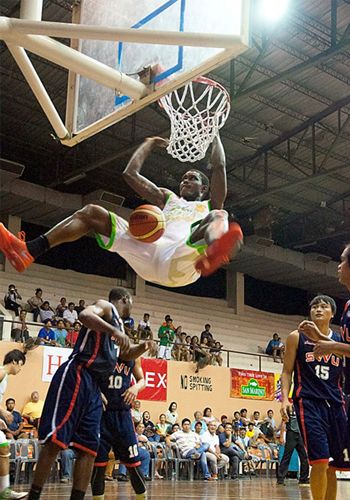 University of San Carlos Warriors
Head Coach: Junthy Valenzuela
1. Adlawan, Dolan
2. Asuncion, Ramon
3. Bensig, Venezer Ian
4. Ecarma, Lucky
5. Laguyo, Giovanni
6. Laude, Christian Senn
7. Lim, Izak Kiefer
8. Magat, Nicolas Kyle
9. Malana, Prince Vaughn Xenox
10. Ortega, Caesar Ian
11. Pepito, Charles
12. Rabat, Victor Manuel I
13. Shooster, Olago
14. Tagapan, Ian Jefferson
15. Toyambi, Espoir
The Warriors hope to use the experience they gained from their stint in the Filoil Flying V Hanes Premier Cup to full measure in a bid to acquire elite status in the league.
Coach Junthy Valenzuela certainly has the tools, notably two new high-flying imports in Shooster Olago and Espoir Tuyambe, who replaced last year's duo of Ahmed Salihou and Barry Amin.
The team has also been bolstered with the recruitment of Fil-American point guard Ramon Asuncion, who is expected to orchestrate an offense that is reliant on the production of its talented wings, Ian Ortega, Victor Rabat, Christian Laude, and former San Beda Red Cub Nico Magat.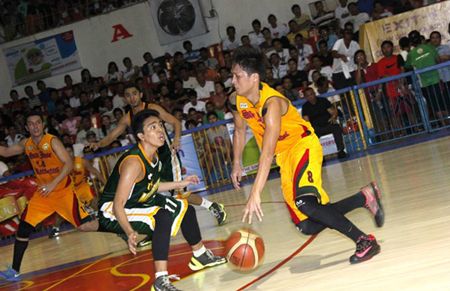 University of San Jose-Recoletos Jaguars
Head Coach: Jun Noel
1. Bayhonan, Edmundo
2. Catipay, Edmundo
3. Custan, Jim Sandre
4. Galvez, Fletcher Criss
5. Labares, Mark Louie
6. Lajato, Kyle Anthony
7. Navarra, Nelvin
8. Regalado, James Earl
9. Senining, Renzo Theodore
10. Suano, Iron
11. Tan, Shann Christopher
12. Villafranca, Kevin
13. Villahermosa, Gerald
14. Luzoladio, Quentin
15. Dinolan, Ralph Jude
While University of Visayas, Southwestern University, and University of San Carlos took turns taking the spotlight during the preseason, the Jaguars preferred to just stay in the background.
And that is exactly to the liking of head coach Jun Noel, a veteran mentor who called the shots for the Negros Slashers and Hapee Toothpaste in the Metropolitan Basketball Association and the Philippine Basketball League.
Noel said shying away from the spotlight did the team well as it gave the Jaguars ample room to focus and improve on their own weaknesses.
"This is a very competitive team. And no, we were not hiding. We were just preparing by ourselves for the season ahead," said Noel.
With eight rookies in the team, a lot is expected out of 6-foot-10 beanpole Quentin Luzoladio from Congo and veteran lead guard James Regalado.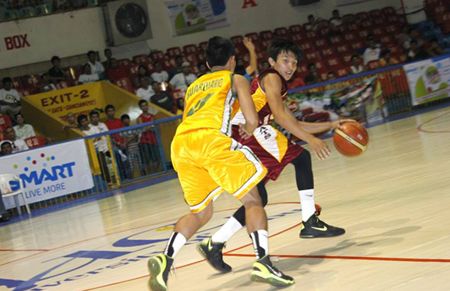 Cebu Institute of Technology-University Wildcats
Head Coach: Gilbert Demape
1. Aloro, Jesse
2. Dimco, Jose Allan
3. Batiquin, Franklyn Albert
4. Bucao, Steven
5. Dela Cerna, Joshua Romelle
6. Kong, Mark Christian
7. Lucena, John Anthony
8. Maglasang, Kelvin
9. Munez, Mariel
10. Patino, Frances Mondelle
11. Pono, Jose Marlo
12. Sabornido, Niel Adrian
13. Taghoy, Jeffrey
One of two teams in the league without foreign players, the Wildcats are expected to compete behind a roster that has been molded according to the strength of coach Gilbert Demape.
With the graduation of star wingman Floyd Taboada, Jose Pono and veteran gunner Franklin Batiquin inherit the backcourt chores for the team while the return of top scorer Allan Dimco and the continued improvement of talented sophomore Joshua dela Cerna boost an undersized frontcourt.
Hope though is in the horizon for the Wildcats as they recruited two skilled forwards from their high school program in Mark Kong and Jesse Aloro.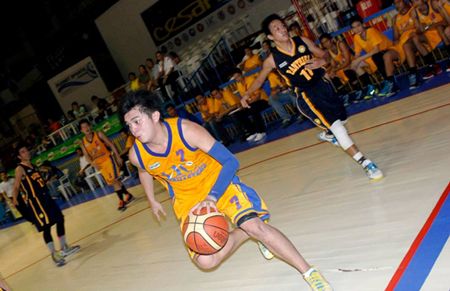 University of Cebu Webmasters
Head Coach: Rhoel Gomez
1. Albrecht, Ian Christopher
2. Auditor, Jan Michael
3. Botuhan, Melvin
4. Codilla, Peter Paul
5. Dacalos, Justine
6. Misa, Junas Marion
7. Nemil, Kerr Louis
8. Pamaran, Ranwolf Regg
9. Puerto, Garciano Jr.
10. Roche, Ernesto II
11. Santander, Windell
12. Sigasig, Johnny
13. Suelto, Clint
The rebuilding project that is the Webmasters is still trying to get off the ground.
After winning back-to-back championships in 2010 and 2011 behind star center and reigning PBA MVP June Mar Fajardo, the school remains in the process of trying to find its identity.
Until that happens, lanky wingman Jan Auditor will have to carry much of the scoring load for a team devoid of any outstanding recruits save for Justine Dacalos, the former Baby Webmasters' gunner.