THE energy and intensity in Gilas Pilipinas practice definitely turned up a notch with the return of Calvin Abueva on Wednesday afternoon at Meralco gym.
Fresh from a six-day break following the PBA Commissioner's Cup Finals, the Alaska star was oozing with energy that infected the rest of the 13 players in attendance, most evident when they were simulating plays on 5-on-5 sets.
"I think the most enduring quote about Calvin is, 'Calvin is Calvin,'" national coach Tab Baldwin said. "He brings the same things: he brings energy, he brings intensity, he brings a feeling of enjoyment to the game.
"Any team that experiences that, enjoys that, they revel in that," he added. "We were waiting for him, he arrived and he didn't disappoint."
[See Energy up in Gilas practice upon Abueva arrival]
Abueva's energy went a bit overboard in one play where he poked Marcio Lassiter's eye, leaving it red colored.
ADVERTISEMENT - CONTINUE READING BELOW ↓
"It was a deflection and we're going after the ball and at the same time, we reached for it and I think he just followed through and got me in my eye," the San Miguel Beer gunner explained. "It's part of the game."
"There'll be a mark," he added. "But as long as I can see, I think that's what's most important."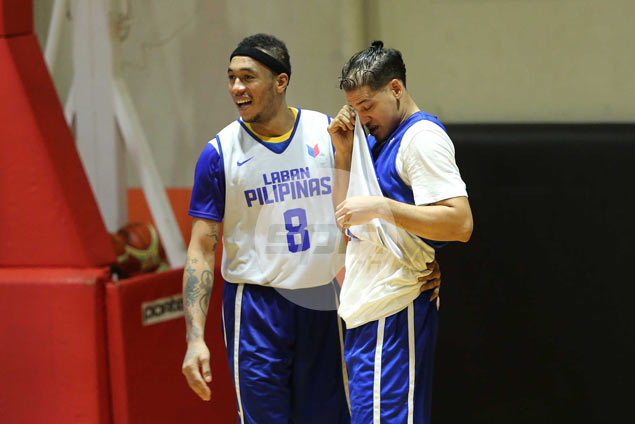 ADVERTISEMENT - CONTINUE READING BELOW ↓
Ray Parks also attested to what Abueva bring to the table, having guarded the Aces workhorse for the most part of the offensive set simulations.
"He brings that competitiveness to the team and he's a hard worker," the NBA D-League campaigner said. "That's his talent, his God-given talent. He uses it well."
Asked if Abueva can toughen him up, Parks agreed.
"I guess that's what coach told him in front of me, like, 'bump him, bump him,' get used to all that," the former UAAP MVP out of National University said. "I feel I've been through worse than that going to the UAAP days, it was tough. I felt better."
Abueva politely declined to grant an interview as he rushed out for a family matter, saying he'll answer questions after Thursday's practice.