THEY pose with collective pride wearing a brand that is distinctively Filipino - inside oven-hot high school gymnasiums, under the shade of palm trees providing shelter from the desert sun, within fenced-in ballparks displaying signs in Mandarin, and even on the decks of huge container ships plying the high seas.
The ISPORT BOTAK Facebook page runs a photo gallery of Filipino ballers living and working overseas - united not only in their love for basketball, but also in their uniforms of choice when they do battle on hardcourts far from home:
The iconic BOTAK brand.
For more than three decades now, the company started by running advocate Cesar Guarin has been outfitting athletic teams with high-quality sports apparel. At the peak of its fame, BOTAK was worn by teams in the Philippine Basketball Association (PBA), the defunct Metropolitan Basketball Association (MBA), the National Collegiate Athletic Association (NCAA), and the Universities Athletic Association of the Philippines (UAAP).
But after thirty-two years, the BOTAK owner finds himself at the crossroads after running into a couple of challenges, among them a case of 'overexpansion' which led to the death of its ready-to-wear line, and an influx of foreign brands - which are either cheap or of high quality - in the local market.
Continue reading below ↓
Recommended Videos
When SPIN.ph went to Quezon City to interview Cesar, we found out that the BOTAK office and showroom in the busy corner of EDSA and Kamuning Road has been transferred to the factory premises in nearby Scout Rallos street.
The original location was but a shell of its former self (a sad sight for a hoops junkie like me who used to pass by the place everyday on the way to school in a Quiapo-bound jeepney), more so the large display windows that used to have an impressive display of basketball uniforms representing a host of teams in the NBA, PBA and other popular hoop leagues.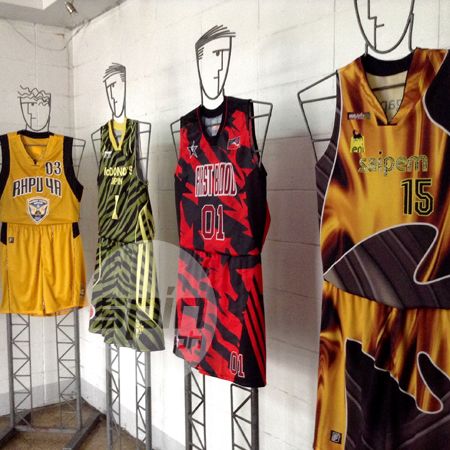 What was left were some BOTAK displays and posters, as the place has been transformed into an ad hoc working space and showcase for TAKBO NA, a run event management company also managed by Guarin, acknowledged as the 'Father of Philippine Ultramarathon' who also holds the distinction as the first 'Filipino Global Runner.'
Now Guarin said he wants BOTAK to return to its roots to revive the popular brand.
The Guarin family has been in the garments manufacturing industry since the 1950s when Cesar's father founded a custom tailor shop that later pioneered in the manufacture of quality knitted shirts and pants.
It was a world the younger Guarin wanted to run away from - literally - but found himself coming back to for the very reason he wanted to leave - running.
Cesar said he dreamed of becoming the country's first Olympic gold medalist in marathon after watching Filipino marathoner Victor Idava compete in the 1976 Montreal Olympics. Guarin trained hard for next two years to qualify for the national team before a knee injury forced him to miss the tryouts for the Moscow Olympics.
These setbacks did not deter Cesar, who has since become the Philippines' ambassador for long-distance running and the owner of one of the most famous Philippine sports brands.
According to Cesar, BOTAK started as a thesis when he was taking up Fine Arts at the University of the Philippines.
"Running is my medium of expression," he told SPIN.ph.
"Walang laman ang utak ko kundi takbo," said Cesar who found a way to combine his love for running and the family business by using personalized running wear during his training for his solo sojourns from Manila to Tagaytay or Angeles City.
Unwittingly, Cesar became his soon-to-be company's first endorser.
"Napupuna ng mga ibang runners na maganda yung mga suot ko (na running wear). Sabi ko punta kayo sa shop. Dahil sa dami ng nagpapagawa naisip ko 'yung brand na 'BOTAK' (which is a play on the Tagalog word, takbo (run)."
Thus was born ISPORT BOTAK in 1982. The brand soon established itself as the maker of high-quality customized athletic apparel that, according to the testimonies of many satisfied customers, were made to last.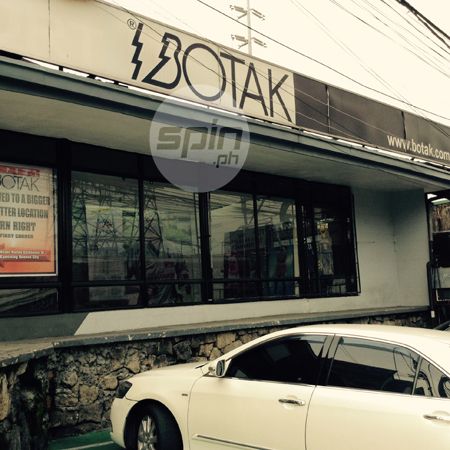 The first Botak products and their competitors were patchwork, Guarin said. There was not much quality printing at the time and BOTAK soon became one of the first to popularize the rubberized trend and sublimation in basketball apparel.
Guarin said he envisioned BOTAK to be the flag-bearer of Filipino sports apparel, the same way Nike was to the US and adidas to Europe.
"I was really thinking of making the Filipino proud of a sport apparel. Kumbaga adidas sa Europe, Nike sa US, Asics sa Japan, merong BOTAK ang Pilipinas. Yun yung aspiration ko."
Cesar is proud of the fact that BOTAK has endeared itself to the sports community particularly in basketball and running - a testament to the quality of its apparel.
At the height of its popularity, BOTAK had a ready-to-wear (RTW) line that was sold in major department stores. The company even had a running shoe line. That part of the business started in 1982 but closed shop in 1992.
Today, the bulk of its business is made-to-order uniforms. The company currently has 100 employees and receives the bulk of its orders from overseas Filipinos in more than 30 countries and territories. Customers are mostly from the Middle East, the East and West Coasts in the US, and parts of Europe, particularly the United Kingdom.
"We want to dress up Filipino basketbolistas," Cesar said of BOTAK's bread and butter.
The cost of a BOTAK basketball kit featuring rubberized graphics ranges from P1,100 to P1,900 depending on the fabric and the design and could be finished in 20 days. BOTAK ships nationwide and overseas.
As part of BOTAK's assurance of quality, every apparel has a stitched-on 'Palathala' - a distinctive tag featuring the brand's logo and a messsage that reads: 'Gamit Pantakbo - Sadyang gawa at subok sa pangangailangan ng Mananakbo at Manlalaro simbolo ng kahusayan at mataas na uring produkto.'
Asked what happened to BOTAK's ready-to-wear line, Cesar said he encountered challenges in trying to 'level up' in the 1990s.
"We had a case of overexpansion and very extensive capital was required. I should have partnered with someone with the resources to fund my projects," he recounted.
He also added that he does not have the disposition of running a company on a daily basis. He loved the creative side of it - but not the rigors of running the day-to-day operations.
"I am a very creative person who does not want to be tied up sa managerial work and creating policies. Although challenging, hindi siya creative enough for me," Guarin explained.
Admitting he is not the type of entrepreneur who is a growth manager, Cesar had sought partnerships to help the company grow and to promote the BOTAK brand, with little success.
"In the past 30 years I was trying to manage BOTAK in a very personal way but sayang yung potential … I want to relinquish my hands-on with the brand to someone who could recognize its true potential," he explained.
After a long wait, that may happen soon.
Without going to specifics, Cesar said he has found a partner who will help re-launch the BOTAK RTW line as part of his plans to tap into the booming running market. As for the current made-to-order line, Cesar said his third child has shown interest in running BOTAK (pun intended).
Once that happens, it would allow him to focus on TAKBO NA, his socially conscious race events company.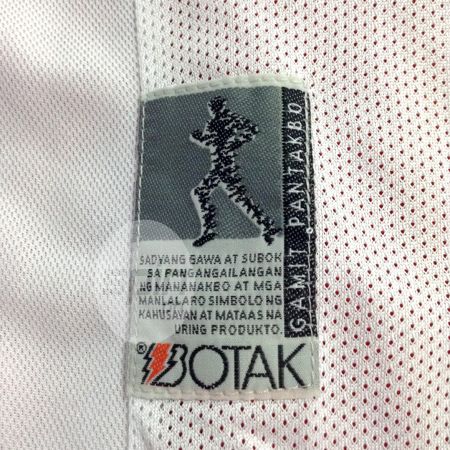 Reluctant to leave the old BOTAK location (which actually stands on rented property), the avid runner said he has special plans to turn his personal "Kilometer Zero" into a place that would honor the history of Philippine running.
As for the future of the brand itself, Guarin said he draws inspiration from Filipino-owned companies such as Max's Restaurant, Jollibee and Bench who, he said, have shown "the capability of Filipinos in what we can do alongside big international brands."
To survive from a local to global market, a company needs to be ingrained within its own country first, Guarin added.
Can BOTAK survive in the face of competition from apparel giants like Nike and adidas, he was asked.
Cesar, seated in his office chair, paused for a moment in deep thought, his gaze focused on the far wall and his fingers interlaced between strong-looking hands.
"It's really going to last because the purpose of the brand is to make Filipinos proud," he said with a smile.