THEY came from diverse backgrounds: One is a green-blooded La Sallite, the other a true-blue Atenean.
But in the world they move in, there are no barriers, no distinctions. Only a common passion.
A decade ago, Dabawenyo sports enthusiasts Christopher Go and Glenn Escandor — both known among their families and close friends as "Bong" — teamed up for the first time in a basketball tournament.
Go was executive assistant to then Davao City Mayor Rodrigo Duterte and Escandor was his late father's understudy in the family's business empire that included a countrywide security agency and a luxury hotel.
From teammates on court, they became co-owners of a basketball team — The Royal Mandaya Hotel-City Mayor's Office (TRMH-CMO) which would later become the most dominant local basketball franchise in the Davao City hoopdom, represented in tournaments by UAAP schools De La Salle and Far Eastern University and NCAA powerhouse San Beda.
ADVERTISEMENT - CONTINUE READING BELOW ↓
"We just plain love basketball and we are deeply passionate about it," said Go, who never misses playing basketball as a break from his very hectic schedule as the President's closest aide.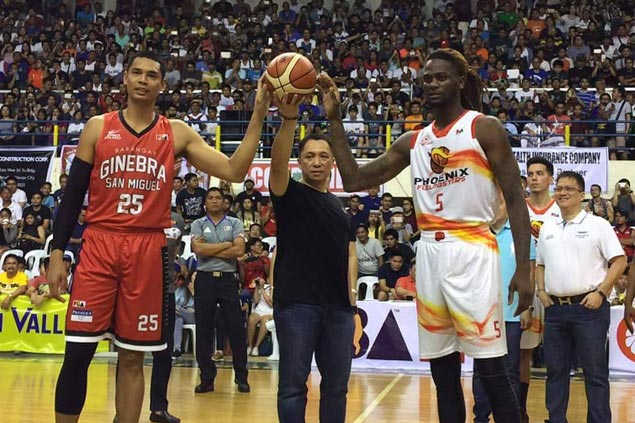 The two friends never realized that one day they'd become the President's men — Go as member of the Duterte cabinet and Escandor as Presidential Assistant for Sports (serving the government pro bono).
ADVERTISEMENT - CONTINUE READING BELOW ↓
It was not only in the basketball court that the two teamed up. They also were instrumental in developing sports in Davao City.
As the one in charge of the sports development office, Go had the dilapidated Almendras Gym refurbished into a facility good enough to host Asean Basketball League (ABL) games. The complete makeover also made the 5,000-seat facility a viable venue for conventions and major city indoor events.
Escandor, for his part, built his own private gym facility — the Genesis 88 Gym - and sponsored basketball tournaments like the annual Royal Mandaya Hotel Cup and the Col. Emilio Escandor Memorial basketball tournament.
Once criticized for its lack of modern sports venues, Davao City is working its way to becoming a sports mecca in the next few years.
At the moment, Davao City is awaiting the completion of the 55,000-seat KingDome of evangelist Pastor Apollo C. Quiboloy, as well as the sports complex of the University of Mindanao and the state-owned University of the Philippines-Mindanao.
ADVERTISEMENT - CONTINUE READING BELOW ↓
When Samahang Basketball ng Pilipinas (SBP) regional director Regino "Boy" Cua passed away last year, Escandor was picked to become his successor. He was later elected as a member of the SBP Board of Trustees.
Aside from being a full-time CEO of the Escandor business empire in Davao City, he also spends time organizing programs for basketball referees and coaches, and strengthened basketball development for public high schools.
As basketball teammates, Go and Escandor were called the "Boss Brothers" and wore jersey numbers 18 (Go) and 81 (Escandor).
"I give it to Bong (Go) to take the shot, he never misses," said Escandor, describing his tukayo as a deadshot from beyond the three-point arc.
Go, on the other hand, praises Escandor for being a team player.
"In everything, he is an excellent team player. That is why he makes a good sports leader," Go said of his bosom buddy.
No doubt, the Go-Escandor tandem has brought new sporting heights for Davao City and will continue to do so.
ADVERTISEMENT - CONTINUE READING BELOW ↓
"There is more to do but we need the help of all sectors," said Escandor who cited the efforts of private and government initiatives to develop sports in the city.