NBA legend Allen Iverson said he has long closed the door on the possibility of playing again, not just in the NBA but in other places like in the Philippines where several PBA teams would love to have him as an import.
"No way," was Iverson's curt response when asked about the possibility of playing as a PBA import.
The 2001 NBA MVP is in line to be enshrined into the basketball Hall of Fame and the spitfirish combo guard claimed that at 39, he no longer has the desire to suit up again since his last stint in a league in Turkey.
But he nonetheless expressed elation over the overwhelming welcome from Filipinos in his second visit in the country for the benefit exhibition game dubbed 'All In,' where he will coach the Balls Up selection against top Pinoy amateur stars on Wednesday night at the SM Mall of Asia Arena.
"Great. It's a great feeling. It's a beautiful feeling," said Iverson. "Definitely (I am coming back). The love is always there. I love these people here, the fans. They always embrace me like a brother. I am just happy to come back and looking forward to come back again.
"I was here before and I loved the feeling that's why it made it easier for me to come back the second time."
[See Who's better? His 1996 rookie class or LeBron's 2003 class? Iverson has the answer]
The six-foot icon dubbed 'The Answer' was surprised to know that a lot of Filipino fans rooted for him and his rag-tag Philadelphia 76ers side during the 2001 NBA Finals against Shaquille O'Neal, Kobe Bryant and the LA Lakers.
"Wow. I didn't know (that). Now I do," he said.
Asked why he thinks people in this basketball-crazy country are fond of him, Iverson claimed it's because he represented the dream of the Filipinos.
"Yeah, I understand. I represent all the short people," he said with a smile.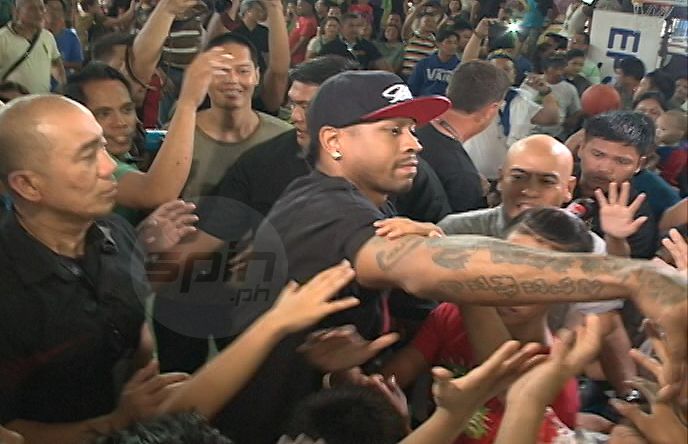 "There can be a Filipino (cager) better than Iverson. I don't want nobody to be the next me. I want to see somebody who is going to be better than me," he continued.
"As long as they put it the work… anything is possible."
So popular is Iverson that even PBA players went out of their way to meet the former NBA star. Rain or Shine star guard Ryan Arana even volunteered to help out in the 'All In' basketball clinic at the Barangay Holy Spirit Gym in Quezon City just to get a chance to meet and have a photo-op with his childhood idol.
"Masaya ko nakita ko siya. Childhood idol ko yan eh. Nandito ako para makita ko siya, mapanood ko siya. And bitbit ko rin yung mga NBA cards ko nagbabakasakali na makapagpapirma sa kanya," said Arana, who was waiting for a chance to have his precious NBA cards, numbering to about 20, signed by Iverson.
Another participant in the clinic, Jayr Bacarro, claimed that he learned about Iverson from his dad, who is a big fan of the 11-time NBA All Star.
Philippine team coach Tim Cone said he is thrilled to coach against Iverson as he parades collegiate rivals Kiefer Ravena and Jeron Teng.
Proceeds of the event will go to Gawad Kalinga, which will build houses in Brgy Holy Spirit.
See video highlights of Iverson's clinic here: