IF referees could cash in on every curse and cuss hurled at them by players, coaches and fans, they'd be among the richest people in the world.
Well, maybe not all of them especially if the game official is as charming as Agnieszka Drabik
Drabik, or Aga for those having a hard time saying her first name, is a sports-loving 28-year old referee from Poland who quit her first sport, acrobatics, to follow in the footsteps of her father.
"Actually my father was a teacher of physical education so I was close to sports from the very beginning," Drabik told SPIN.ph. "I was training actually acrobatics but then I decided to quit because this is only up to an age of 18 or something like that. So I decided to become a basketball referee, following my dad who's also a basketball referee."
"I just love sports in all forms and basketball is my main sport," she continued.
Her journey has taken her to Manila for the 2016 Filoil Flying V Preseason Tournament but being a referee wasn't her initial plan.
Drabik moved to the Philippines six months ago because of her day job as a Human Resource specialist for Philip Morris. Her designation is to handle international assignments where she is the one tasked to transfer an employee from one country to another.
Continue reading below ↓
Recommended Videos
But her love for sports, particularly basketball, led her to the preseason tournament.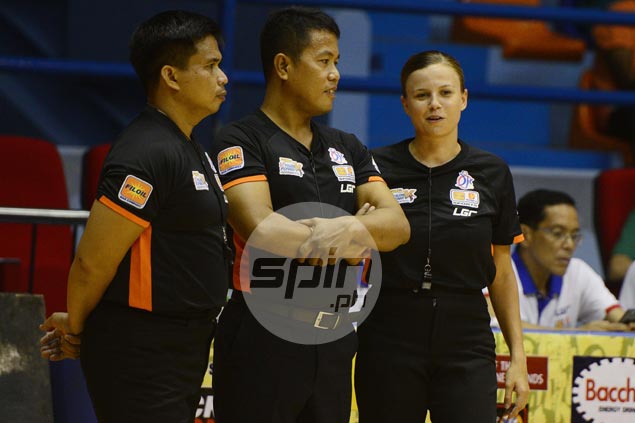 Being the only rose among the thorns, the cheerful and candid referee said she never got special treatment and she wouldn't want that either.
"It's a lovely country, people here are treating me very warmly. I moved here because of work and so I decided to join the federation of referees," she said.
"I'm enjoying my time, I'm glad that I am able to officiate men's game. They treat me equally to men even though I'm a woman so it's really nice. It's actually an equal treatment, we start in the same task so I am not treated better than them and vice versa," she added.
For someone who has been almost in every part of Europe and America, there's one thing that makes the Philippines stand out in her travels. She stressed that what makes her enjoy the Philippines is the fact that the Filipinos are as passionate and as basketball crazy as her and the players are skilled despite the height disadvantage compared to taller cagers in other countries.
"Actually I had some games before but those were for women. This is the first time I had men but in general it's really nice that your country is crazy about basketball. It's the first country I see like that," said Drabik, who by the way is happily married to Tomasz Kawa.
"In Poland basketball is also big but number one is football so it's really nice that Filipinos are loving basketball the same way that I do," she added. "The players are very well trained. They're fast, maybe not that tall like in Europe but that's the height for Asia and we cannot complain."