BALIUAG, Bulacan — Renaldo Balkman was a workhorse on both ends of the floor on Wednesday night for San Miguel Alab Pilipinas.
Yet he was the first to credit team play for the thrilling win over Mono Vampire.
"You know how to win when you play together," the enigmatic Puerto Rican big man said after an 86-84 win over the Thai side extended Alab's win streak to six games and pushed the lone Philippine team in the Asean Basketball Legue (ABL) to third place.
Balkman has earned infamy in the country for a choking incident with Petron teammate Arwind Santos that led to a life ban in the PBA in 2013, but so far he has been doing everything for Alab on the court and saying all the right things off it.
The former NBA player had 31 points, 13 rebounds, three assists, and five steals against Mono Vampire, including the lay-up with three seconds to play that sealed Alab's ninth win in 13 games overall.
Aside from that, the 6-foot-8 Balkman also drew the tough task of guarding Mono Vampire's 7-foot-5 Maltese-Italian import Samuel Deguara.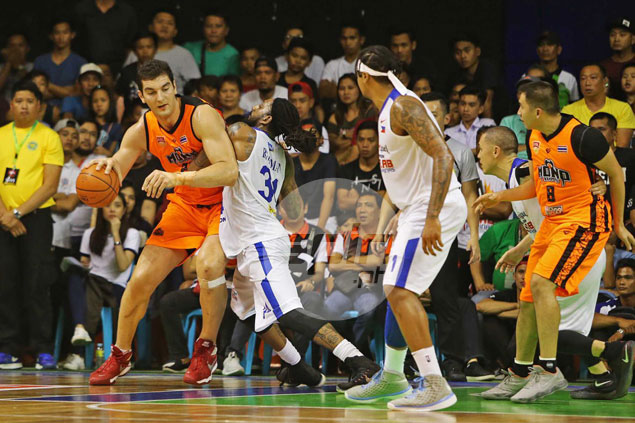 Continue reading below ↓
Recommended Videos
Although he had 21 points and 15 rebounds in the game, Deguara had to bleed for his points and got into foul trouble trying to keep up with the quicker Balkman.
Balkman is not complaining.
"Day in and day out, every night, I had to guard the big guys, man. We played great tonight. I played well. Can't do it without my teammates who pushed me. Came out with a win," he said.
San Miguel Alab Pilipinas coach Jimmy Alapag paid tribute to Balkman's yeoman job.
"A monster effort," said Alapag. "He has been giving that to us from the day that he arrived a few months back. Again, we are thankful to have both guys (Justin Brownlee and Balkman) with us."
Alapag said he was no longer surprised with the defensive intensity of Balkman, who had played in the NBA with the New York Knicks and the Denver Nuggets.
"He has guarded the best players in the world. He's guarded Kobe Bryant, he has guarded all those guys. We are really fortunate to have him," said Alapag.
Balkman said there is a certain vibe in the air that has enabled Alab to succeed.
"Since Day One when we got here, there's a different vibe in the air. We took it step-by-step, game-by-game, that's we have been doing and we have been winning," said Balkman.