THE partnership of Renaldo Balkman and Justin Brownlee was a match made in heaven for San Miguel Alab Pilipinas in its run to a first-ever Asean Basketball League (ABL) title.
Forming the partnership, however, was easier said than done.
Alab coach Jimmy Alapag recalled the time he felt the change was needed when the team was struggling with Ivan Johnson and Reggie Okosa as imports.
"We were sitting at 1-4, I think, at that time. We felt like we needed to make a change," said Alapag.
The first name that came to mind for the team was Brownlee, and Alapag admitted he was surprised that the Ginebra import agreed to play for Alab.
"To be honest, I couldn't believe that Justin said he will come play. He was the first to commit," said Alapag.
At that time, Alab was already comfortable having Brownlee — a proven winner after with two Governors' Cup titles in the PBA for Ginebra under his belt — team up with Johnson for the rest of the season.
However, Alab's plan quickly crumbled after a setback on Johnson's recovery from injury.
"I think Charlie (Dy) and I got a call from coach Chappy (Callanta) and coach Jeff (Mendoza), our strength and conditioning coach and PT. They found out that Ivan Johnson is going to miss an extended amount of time," said Alapag.
Continue reading below ↓
Recommended Videos
"We had less than a week before our next game. So as happy as we are that Justin Brownlee will be coming to play for Alab, we were in panic mode because we only had one import," he added.
One night, Alapag and consultant Danny Seigle met to discuss options for the replacement import.
"We probably stayed at Capitol Commons till about 3 a.m. scrambling, trying to find anybody really that can come and try to help us because we were really at a desperate time at that point," said Alapag.
Out of the blue, Alapag remembered a conversation he had with Balkman during the 2014 Fiba World Cup wherein he vowed to help if Alapag enters the coaching world.
"It was just funny that Danny said, 'Hey, what's Renaldo Balkman doing right now?' (And I said) that's the best idea we had all night," said Alapag.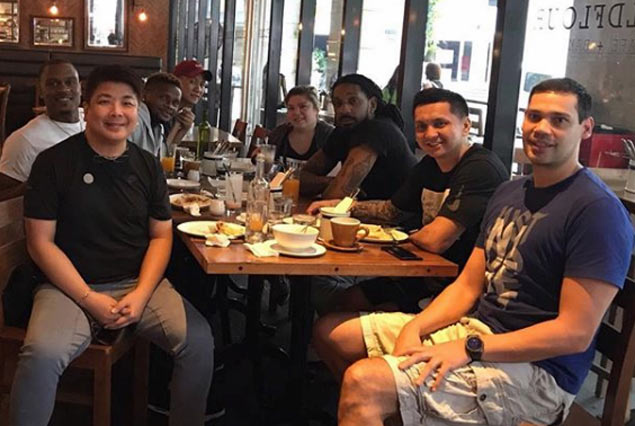 Immediately, Alapag called Balkman's agent Sheryl Reyes in order to ask if Balkman is available.
"It just so happened that he was in the States and he was available. He was excited to come back to the Philippines," said Alapag.
The rest, as they say, is history.
After a slow start, Alab came through with a win streak that stretched to as long as eight games. The Philippine side placed third after the elimination round, beat Saigon in the quarterfinals, and stunned defending champion Hong Kong in the semifinals.
Alab claimed the crown last week after beating Mono Vampire in five games with Balkman and Brownlee leading the way in the winner-take-all match that ended in a rout, 102-92.
Brownlee said it was a pleasure playing with Balkman, a player he got to know beyond an import who previously had a bad rep because of his lifetime ban in the PBA for choking Petron teammate Arwind Santos in the 2013 PBA Commissioner's Cup.
"I never played with him but I remember seeing him play. I'm actually a fan of his game. I knew him but I didn't know him personally," said Brownlee.
"I know he had a bad rep before but when you really get to know him, he really is a great guy. He is genuine and he cares about his teammates. He plays with a lot of passion and he cares about winning," said Brownlee.
Alapag agreed.
"I knew what happened was really an isolated incident. I think he showed during this stint his true character, not just his ability on the court, but also his love and passion for the game just like us Filipinos have," said Alapag.
Alab team owner Charlie Dy also can't thank Reyes enough for bringing his two players to the fold.
"We were really struggling. We were 0-3. We were looking for a replacement. She was the one who suggested why not get Justin and Balkman. Jimmy called her, nag-usap-usap sila," said Dy.
Balkman is also glad his partnership with Brownlee resulted into an ABL crown.
"B and B. Remember that," said Balkman.