RAY Parks had an impressive all-around game in his first game back in the country, but also found himself on the wrong side of the highlights during Alab Pilipinas' first outing against the Singapore Slingers.
In the third quarter of the home opener of Alab, Singapore import Xavier Alexander provided the highlight of the night when he threw down an emphatic slam dunk with Parks going for the block, drawing oohs and ahhs from the crowd at the Alonte Sports Arena in Binan, Laguna.
Parks says he doesn't mind being dunked on, choosing to look at the bright side of his performance against Alexander.
"I blocked him three times. It's hard to block a dunk, then get dunked on. Personally, I don't feel bad getting dunked on. That's part of the game. Good dunk, good blocks," said Parks.
What leaves Parks disheartened is that Alab Pilipinas fell short in their first game in the new season of the Asean Basketball League.
[See Ray Parks' solid debut goes for naught as Alab Pilipinas loses to Slingers in ABL debut]
Parks did it all on both ends of the court, contributing 19 points, seven rebounds, four assists, and three blocks to the cause of Alab, but the Philippine side failed to nail crucial baskets late.
"It's a great feeling [to be back]. The thing that sucks is that we didn't win it for them. We truly appreciate the energy that they came out," Parks said.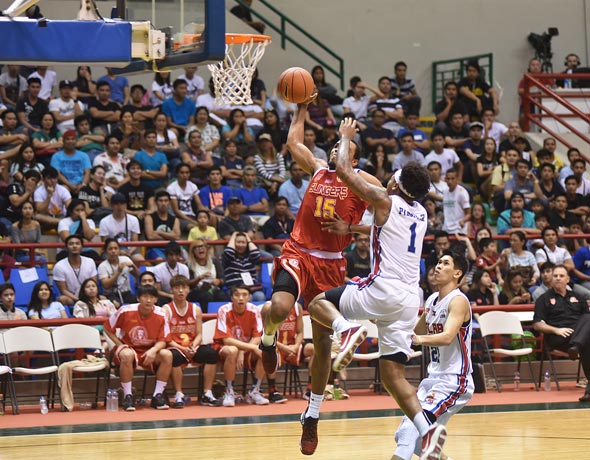 Parks feels they still need quite a bit of work to become one solid unit.
"We lost as a team. We have a lot of adjustments to make. At the end of the day, it's our first game. We will take it with a grain of salt and move on to the next game," said Parks.
Their lack of chemistry showed in the loss to the Slingers, Parks said, after Alab blew an eight-point third-quarter lead following a huge run by Singapore.
"The thing is there were crazy spurts where we played terrific basketball and there were times that we were playing terrible basketball. There was a lot of erratic stuff going on," Parks said.
In due time, Parks said, Alab Pilipinas will be able to find its true form as the long season progresses.
"We have to feel each other more as teammates. We only practiced five days, truthfully," said Parks.