JIMMY Alapag has made some bold choices in his debut season as head coach of Alab Pilipinas in the Asean Basketball League (ABL).
But the former PBA MVP had no hesitation whatsoever when he decided to bring back Renaldo Balkman, in the same way he never once doubted his decision to tap the similarly enigmatic Ivan Johnson as Alab import.
"None at all," Alapag told SPIN.ph when asked about the decision to bring in the controversial pair. "I think both guys are winners, and have a fire and passion for the game like us Filipinos. Not to mention they're (both) world-class imports."
Balkman, of course, earned infamy when he tried to choke Petron (now SMB) teammate Arwind Santos in a 2013 incident that made headlines around the world - and earned the former NBA player a lifetime ban from the PBA.
Johnson was also hit with a life ban by the PBA and fined P250,000 for 'cursing and disrespecting' then commissioner Chito Narvasa during a 2016 game. The ban was eventually downgraded to a season-long suspension after an apology.
Yet Alapag didn't think twice in giving both a shot at redemption.
"We all make mistakes sometimes," Alapag said, "but I choose to hold my judgments until I have a personal experience with them myself."
Continue reading below ↓
Recommended Videos
Alapag said he had no problem whatsover in the time Johnson spent with Alab. The rookie coach said he wouldn't have dropped the temperamental import had he not suffered an injury that would keep him out of action on a busy January when Alab will play no less than seven games.
"If his injury asn't bad, we would be replacing him. Unfortunately, he's out at least a few weeks and January is a busy month for us. We can't afford to play with only one world import."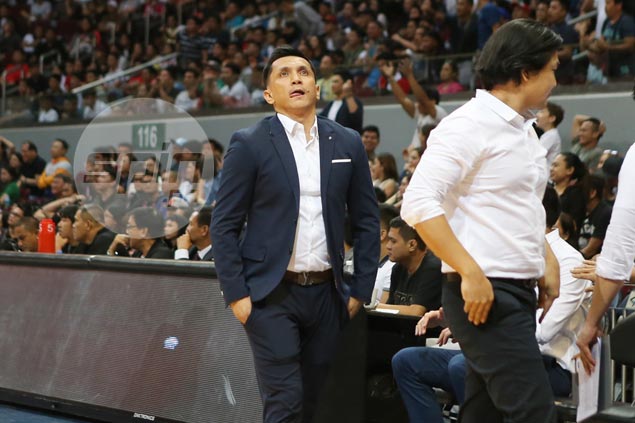 Asked about Johnson's behavior during his time with Alab, Alapag said, "No bad experiences with him at all. I have a close relationship with Ivan."
With Johnson out, Alab and Alapag have made an even bolder choice in Balkman, who, at 33, has played around the world - and earned notoriety every now and then - after a six-year career in the NBA playing for the New York Knicks and Denver Nuggets.
But Alapag is willing to look past all that and focus on what Balkman can give Alab as he steps into Johnson's old role and teams up with resident Ginebra import Justin Brownlee.
"When we found out last week (that) Ivan was out, we immediately had to look at possible options for us. Balkman fits right what we're looking for - a versatile, defensive energy guy, also capable of scoring," said the former Gilas captain, who played against the Puerto Rican during the 2014 Fiba World Cup in Seville, Spain.
"He gives us a lot of flexibility both offensively and defensively together with Brownlee."