THE Philippines exports all types of workers, both the blue- and white-collar varieties. We've sent nurses and seafarers overseas, construction workers and engineers, household workers and executives, teachers and entertainers. Name a job, a Filipino is most likely doing it in some part of the world.
Now meet the newest Filipino overseas worker, the kind that does his job not with a stethoscope or a shovel but with a ball, and reports for work in shorts and sleeveless shirt.
Professional cagers are the latest to join our 13 million-strong workforce abroad, and they ply their trade in the fledgling Asean Basketball League. They're in big demand, which is not a surprise considering Filipinos are the best basketball players in the region, and they're making their mark.
Two Filipino players, Froilan Baguion and Ardy Larong, played key roles during the Chang Thailand Slammers' run to the title last season against the Philippines' own Patriots. This season Jerick Canada, Allan Salangsang and Fil-American star Stanley Pringle are playing in the ABL finals, not for Philippine entry San Miguel Beermen but for the Indonesia Warriors.
There are about 12 Filipinos in the roster of the ABL's four non-Philippine teams based in Singapore, Indonesia, Malaysia and Vietnam, while two Filipino coaches call the shots for Malaysia's Dragons.
According to league insiders, the going rate for Filipino imports in the regional league is around US$2,000 per month or roughly P85,000, just about the same pay for a role player in the domestic league but far smaller than what PBA franchise players receive.
These players are treated well in their adopted countries and have their own following. But other than that, they are no different from any other overseas-based Pinoy worker, dealing with everyday problems with assimilation, remittances, exchange rates and, of course, homesickness.
Patrick Cabahug is even beginning to sound very much like one.
"Iniisip ko ngayon na as long as healthy pa ako, dapat makaipon na. 'Yun lang ang goal ko para pagtanda ko, at least may naipundar ako. Hindi habang-buhay ang basketball. Kahit anong liga pa yan, basta makaipon ako," said the 27-year-old Cebuano, who plays for the Malaysia Dragons.
Cabahug is one of the lucky ones. His salary is tax-free and the fee for his agent is shouldered by the team. Moving around Kuala Lumpur is easy, thanks to the city's efficient transport system. Besides, the Dragons' practice facility is no more than five minutes away by cab from their apartment, he said.
The Dragons' Filipino players and staff have also become regulars in activities of the Filipino community there, hearing Sunday mass and joining several OFWs working for Petronas for lunch. When he needs to send money to his family in Cebu, there's always a remittance center or a bank nearby.
Saigon Heat's Noy Javier also considers himself lucky to be playing in a country with a lower cost of living. Eating out is pretty much affordable, he said, but he tries to save as much as he can.
"Mura lahat sa Vietnam," he said.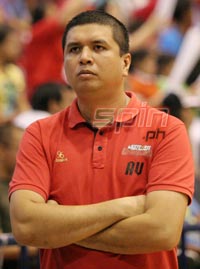 The transition has not been as seamless for Ariel Vanguardia, the Dragons' head coach who admitted losing weight in his first few months in Malaysia. Partly because he missed his wife and 10-month old daughter so much, and partly because he was constricted for so long to a diet of takeout sandwiches and fried chicken. 
"This is my first overseas job so it was a struggle for me, just being away from home," said Vanguardia, former coach of Jose Rizal University and a longtime assistant with several clubs in the PBA. "I lost a lot of weight because all I ate was KFC and Subway."
Vanguardia has since adjusted to life in KL. He has learned to enjoy Malaysian cuisine and, better yet, now gets his regular fill of adobo and sinigang after assistant coach Cesar Polhen – who happens to be a good cook – moved into their apartment.
Just like most OFWs, job security can also be a problem for the players, more so for the role players. One-season deals are the norm but a number of players just try to hang on with weekly contracts.
"Usually kasi, walang kontrata 'yung ibang players kaya anytime pwede kami tanggalin," said Jerick Cañada of the Indonesia Warriors. "Pero mayroon rules na after 16 games [that you stayed with a team], wala nang tanggalan."
But perhaps no one enjoys the overseas experience more than Jai Reyes, who loves everything about Thailand – from its food to its train system down to its beaches. "Ang maganda 'dun (sa Bangkok), kahit anong oras ng gabi, baba ka lang sa kalye, marami silang street food," he gushed.
His team, the Bangkok Cobras, had missed the ABL playoffs but Reyes continues to be busy with basketball-related work. He does commentary work for games shown on Thai television and is tapped as resource person for anything basketball in Bangkok.
Reyes knows of no other place where he would rather be. Except for home, of course.