LAWRENCE Domingo took pride in his defensive effort on Sunday which was highlighted by two straight blocks against no less than Mono Vampire man-mountain Samuel Deguara.
Domingo, 25, got the crowd inside the Sta. Rosa Mult-purpose Complex in Laguna all pumped up when the 6-foot-5 defensive lynchpin blocked the 7-foot-5 Deguara twice in the fourth quarter of San Miguel Alab Pilipinas' 143-130 overtime win.
"It was a point in the game where we need something to happen," Domingo said. "I'm an emotional player and you see, I wear my heart on my sleeve. And to have two big blocks, it feels great."
"But I don't want to be caught so much in the moment. I get energetic and I let that carry off the rest of the game. I'm just glad we got the win," Domingo said.
Deguara scored 21 points and grabbed 11 rebounds, but Alab's defense forced the hulking Maltese-Italian to earn his points, leading to offensive fouls that led to his disqualification late in the fourth quarter.
He was no longer around when Alab pulled away in overtime.
Domingo has embraced his role a defensive anchor as the the team zeroes in on a first-ever championship - and the third for a Philippine side in the nine-year-old regional league.
Continue reading below ↓
Recommended Videos
"In high school, it wasn't something that I paid attention to. But in college, I realize how much better I can be as a player and us as a team if people are locked in defensively. I feel like when you have a guy who is locked down defensively, it carries over to his teammates.
"We have great guys, Brownlee, Balkman, and Ray Parks that can put the ball in the basketball. I felt that defensively and rebounding is something that I can focus on in order to get to the top," said Domingo.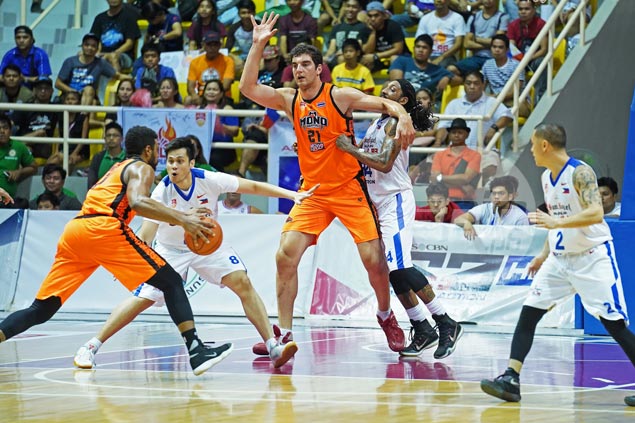 Domingo vowed not to back down against Deguara.
"I felt like fighting out there with the big man," said Domingo. "You really have to just have heart especially when you are so much smaller than a guy like Deguara.
"Effort-wise, I felt like I came with every single game. I will come play hard every single game. The ball may not bounce my way but no matter what, I'm going to give 110 percent of my effort," he added.