AFTER playing - and coaching - against Justin Brownlee and Renaldo Balkman in the past, Alab Pilipinas head coach Jimmy Alapag sure is happy to finally have the two on his side.
The former PBA MVP have found himself on the losing end when playing against them: Brownlee in two PBA Governors Cup finals against Ginebra back when Alapag was still with Meralco, and Balkman when Gilas played Puerto Rico in the 2014 Fiba World Cup in Seville, Spain.
"I have personal experience with Justin Brownlee, both as a player and as a coach. I got burned twice – both times in the finals. There's no secret what type of player he is. Just really thankful that he's here to play with Alab for this ABL season. Really fortunate to have him," said Alapag.
As for Balkman, Alapag said the former PBA import already talked to him about a possible return to the Philippines during that Seville game.
"You know, when I saw him in Spain, he said, 'Hey, if you ever get into coaching and the door opens up for me to come back to Manila, I'll be ready.'" the former Gilas captain recounted. "And it just worked out that he's back."
Continue reading below ↓
Recommended Videos
Alapag was more than willing to give Balkman a fresh start, five years after a choking incident that led to a life ban in the PBA.
"I really think what happened years back was really an isolated incident. At the end of the day, no one's perfect. We all make mistakes. Again, he's said it numerous times that he's regretful of what happened … hopefully, that issue will be dead and he'll be able to make a much better impression here in the Philippines."
Balkman, 33, is thankful for the second chance.
"I played against him as a player, now he's my coach. It's a blessing for me to be given that chance. We talked about it a couple of years ago. He always told me that if he had a chance to coach me, he would and that's what happened," said Balkman.
"Right now, I'm still thanking him cause he kept his promise, so I'll keep my promise to him of winning a championship."
In a 90-79 win over the Westports Malaysia Dragons, the two were quick to show what they're capable of. Brownlee firied 29 points to go withg eight assists, seven rebounds, three steals and two blocks while Balkman had 17 points, 11 rebounds and four steals.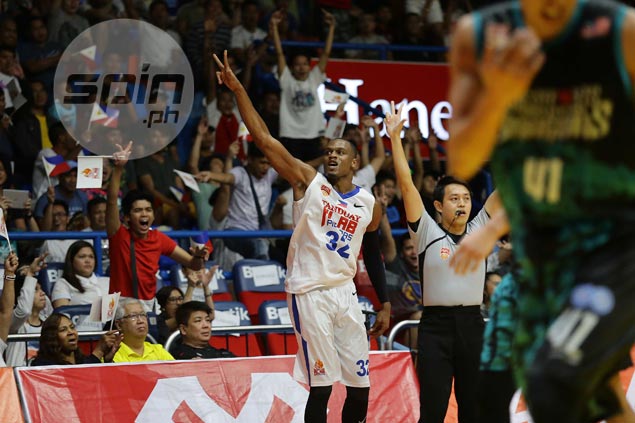 "Great to have them on our side, that's for sure. They're world-class imports. I think they'll give us a chance. It's gonna be important for us," Alapag continued.
"Kailangan namin for this month as we continue to improve, I keep telling the guys, let's keep working, let's keep building. Hopefully we'll give us a chance come March, April."
The feeling is mutual, Brownlee said.
"It was a great opportunity and an honor to be able to play for a guy like him, as intelligent as he is and the type of player he was, he was a great player in the PBA for many years," Brownlee said.
"Playing for somebody like that with a lot of knowledge in basketball and also a great guy, it's a blessing for me and my career. I'll definitely take advantage of that."