CAELAN Tiongson has caught the attention of San Miguel Alab Pilipinas coach Jimmy Alapag.
Alapag was so impressed, in fact, with the play of Tiongson that he went to the extent of comparing Chong Son Kung Fu's heritage import to Rudy Hatfield, one of the best Fil-foreign players to play in the PBA.
"You have to give credit to Caelan Tiongson. He reminds me a lot of Rudy Hatfield. And Rudy Hatfield is a Hall of Famer in the Philippines," said Alab's rookie coach.
Alapag, of course, knows where he is coming from since he played a large chunk of his PBA career with Hatfield, who started with the Laguna Lakers in the defunct MBA before joining the PBA in 1999.
The hard-nosed forward enjoyed his most success with Barangay Ginebra in a 14-year PBA career before retiring in 2013. He is now based in the US.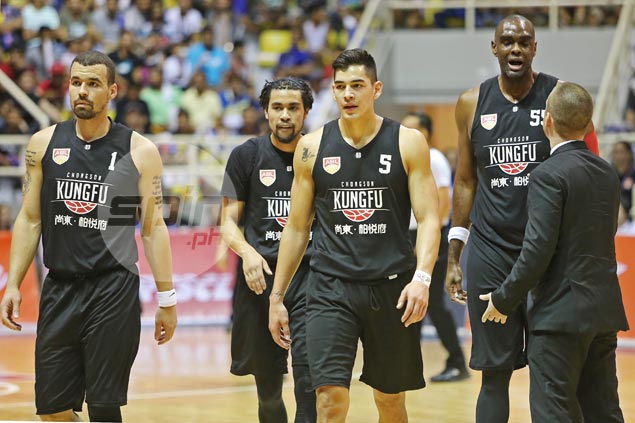 Continue reading below ↓
Recommended Videos
Making his Philippine debut in a game against Alab at the weekend, the 25-year-old Tiongson finished with 11 points and six assists while battling foul trouble.
Still, the 6-foot-4 Biola University standout did enough to impress Alapag.
"Just the power, the motor, he plays the game the right way. He competes for every possession, just like Rudy Hatfield. I think Rudy Hatfield is an absolute winner in our country. I think our fans got an opportunity to see somebody who is very similar to him," said Alapag.
Alapag said Alab was also fortunate that Tiongson had to deal with foul trouble in the contest.
"I think we got a break when Tiongson got into foul trouble a little bit because if he didn't, he will play 45 minutes," said Alapag.
Tiongson and Chong Son atoned for loss to Alab on Wednesday by beating Formosa, 108-79. Tiongson had 13 points and five rebounds in the game.
Meanwhile, Tiongson's Fil-American teammate Mikhael McKinney was back to his explosive ways against Formosa by coming away with 32 points.
"It was great to see him and McKinney playing here at home. Just not against us," Alapag said in jest.