THE work isn't done for Ray Parks, Jr.
Parks Jr.'s trainer in the United States Tyrone Gordon is set to arrive to Manila as the Alab Pilipinas cager and Asean Basketball League leading scorer continues to seek ways to improve his skill set.
Alab Pilipinas team owner Charlie Dy said Gordon will arrive in February to supervise a 10-day training session with Parks, who has been nothing but impressive in his maiden ABL stint.
Gordon is the man behind Gordon DTA Workouts, which has a long list of clients from the NBA D-League. Parks underwent intensive training with Gordon prior to his stint with the Texas Legends.
In Gordon DTA Workout's official website, Parks was quoted as saying: "Gordon DTA has changed and took my game to a whole new level. Just the understanding of the game and the new skill sets that were taught to me allowed me to add a new dimension to my game. I became a whole new player, a better one."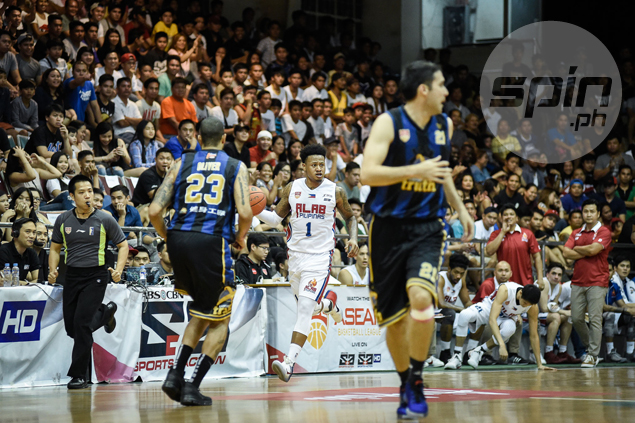 Continue reading below ↓
Recommended Videos
In an interview with reporters during Alab's road game against Singapore last month, Parks reiterated Gordon's role in his improved play.
"It shows sa hardwork na pinapakita ko na nothing is forced and na-polish 'yung game ko. Tyrone Gordon really did a good job and for me to be able to sign him for a year," said Parks.
In his first four games with Alab, Parks led all ABL players, including imports, in scoring with an average of 26.3 points per contest. Parks also leads the league in three-point shooting with a 53.8 percent clip and is in the top five in blocks with 1.3 a game.
A former NCAA Division I player for Dakota State University, Gordon played professional basketball in Europe before becoming a player development coach of the Texas Legends, an affiliate of the Dallas Mavericks.
Gordon's trip to the Philippines isn't no longer new to him as he, according to the Gordon DTA Workout website, has traveled to Asia to train college and professional athletes.