BOBBY Ray Parks is not in a hurry to make a decision about his next career move, saying he needs to recharge after an exhausting run to the championship in the Asean Basketball League (ABL).
And as the PBA draft buzz grows louder after an impressive six-month campaign earned him a second straight league MVP award, Parks wants to discuss matters with his Alab family first.
"Right now, pahinga muna," the son of the late seven-time PBA Best Import awardee Bobby Parks said. "I definitely need a break. My body needs a break. My mind needs a break."
"But at the same time, next couple of days, me, coach Jimmy (Alapag), boss Charlie (Dy, Alab team owner) are going to talk about the next move," Parks said.
Parks capped off an impressive season by winning the finals MVP after Alab beat Mono Vampire Basketball Club in a best-of-five series that went the distance.
While Parks has been with Dy since Alab started, Parks has found a new mentor in Alapag, who will definitely play a big part in charting the 6-3 guard's future.
"Coach Jimmy has been a mentor to me. He is like a father figure, brother, friend, coach, you name it," said Parks.
Continue reading below ↓
Recommended Videos
Parks said he looked up to Alapag ever since the latter's early playing days in the PBA, saying he used to take a long bus ride from his home in Paranaque to the Big Dome just to watch him play.
"I used to tell him when I was young, I used to ride a bus from Paranaque all the way to Araneta just to watch his games. Now, we are winning championships together and being able to learn under a great coaching staff," said Parks.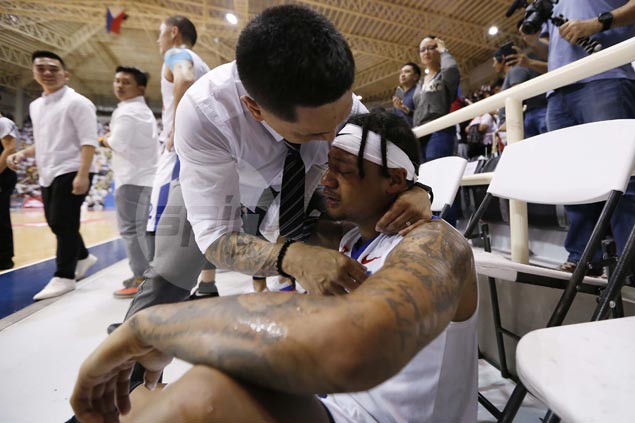 "I'm very thankful to San Miguel for just taking us in when nobody believed in us but ourselves. It's truly a blessing in disguise. And to have great guys on this team, they made the work so much worth it. It's easier to come to the gym and work. Coach did a good job of bringing great guys," said Parks.
Parks also paid tribute to his father, the late Bobby Sr., who coached in the ABL with the San Miguel Beermen in 2012.
"Dad, we did it," Parks said.