STA.ROSA, Laguna - Justin Brownlee and Renaldo Balkman kept San Miguel-Alab Pilipinas together in the face of a tough stand by Mono Vampire as the hosts escaped with a 143-130 win in Game One of the Asean Basketball League (ABL) Finals on Sunday night.
Brownlee scored a finals-record 46 points to go with 11 rebounds and nine assists while Balkman hit the game-tying follow-up basket for Alab, which wiped out a four-point deficit in the final 19 seconds of regulation at the Sta. Rosa Multi-Purpose Complex.
Alab also got a big break when Samuel Deguara, Mono Vampire's 7-foot-5 center, fouled out late in regulation play trying to stop a Brownlee drive, allowing the hosts to pull away in overtime in the highest-scoring game in the league's eight-year history.
The thrilling win moved Alab two wins away from bringing the ABL title back to the Philippine shores.
Jmmy Alapag's boys try to inch closer to becoming the third Philippine team - and the first since San Miguel Beer in 2013 - to win an ABL title when Game Two of the best-of-five series is played on Wednesday.
With no Deguara to dominate the paint for the Thai side, Alab scored the first eight points of overtime to put the game to bed. Brownlee scored 10 of his points in extra time alone.
Continue reading below ↓
Recommended Videos
"In all my years of being involved in professional basketball, I've never seen and never been part of a game like what you saw tonight," said Alapag after the match.
"I was amazed with the offensive showing we put on in a 45-minute game. I'm definitely not happy giving up 130 points. I'm proud of our guys. I know we have to be much much better on Wednesday," he added.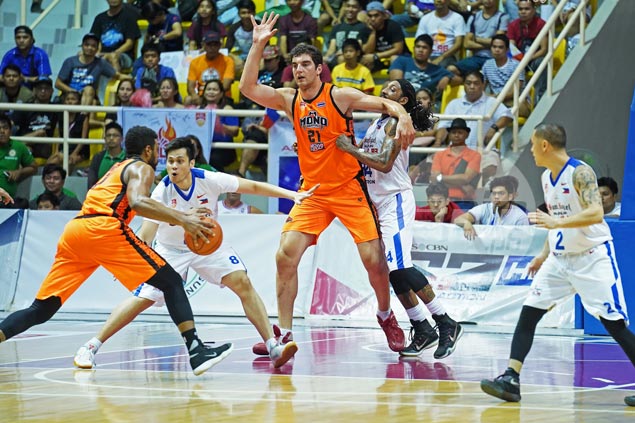 Balkman finished with 39 points and 15 rebounds. Ray Parks added 27 points, five rebounds and three steals before fouling out while Lawrence Domingo added 14 points off the bench.
Mike Singletary fired 42 points while Paul Zamar finished with 25 points for Mono Vampire, which took a 120-116 lead with 19 seconds left in regulation after two Singletary free throws.
Maltese-Italian Deguara added 21 points, 11 rebounds and four shot blocks before fouling out while Jason Brickman filled the stats sheet with 15 points, 14 assists, eight rebounds and five assists.
The scores:
SAN MIGUEL ALAB PILIPINAS 143 — Brownlee 46, Balkman 39, Parks 27, Domingo 14, Raymundo 9, Javelona 8, Alabanza 0, Celiz 0, Hontiveros 0, Sumalinog 0, Urbiztondo 0.
MONO VAMPIRE 130 — Singletary 42, Zamar 25, Deguara 21, Brickman 15, Apiromvilaichai 14, Chanthachon 7, Klahan 6, Boonyai 0, Khukhandin 0, Phuangla 0.
Quarters: 26-32, 59-58, 87-87, 121-121, (OT) 143-130