ALAB Pilipinas is off to a fine start, not just on the court but also in the box office as the Philippine side has played in front of large crowds in three separate venues in its debut season in the Asean Basketll League (ABL).
Sunday night was no different as fans, mostly from Paranaque City, packed the Olivarez College Gym to witness Alab Pilipinas' first game in Metro Manila - a 93-87 win over Taiwanese side Kaohsiung Truth.
The scene replicated those at the Alonte Sports Arena in Binan City and the brand-new Baliwag Star Arena in Bulacan where fans came in droves, forcing league officials tap extra security to keep the crowd under control.
"Nakakataba ng puso 'yung ganitong support," said ABL chief operating officer Jericho Ilagan. "In Binan, we had 90 percent attendance, Baliwag (game was soldout), and in Olivarez, we had 95 percent."
[See Parks explodes for 41 points as Alab repeats over Kaohsiung]
Three previous Philippine representatives in the ABL never attracted as big a crowd, at least not until playoff time.
Although played in relatively smaller venues, ABL games are also proving to be a bigger hit in terms of attendance than PBA double-headers not involving popular teams like Ginebra and Star.
Continue reading below ↓
Recommended Videos
From the start, Alab Pilipinas' main thrust is to bring its games closer to more fans, the reason it is holding games in the provinces and in non-traditional venues in Metro Manila.
So far, it is paying off as the ABL expects more fans to come when Alab Pilipinas hold stops in Davao and Sta. Rosa, Laguna in its next home games.
The fact that Alab is flying the flag in a regional league - unlike in the PBA where teams represent companies and their brands - has brought added appeal to the team, bringing out the fervor among fans.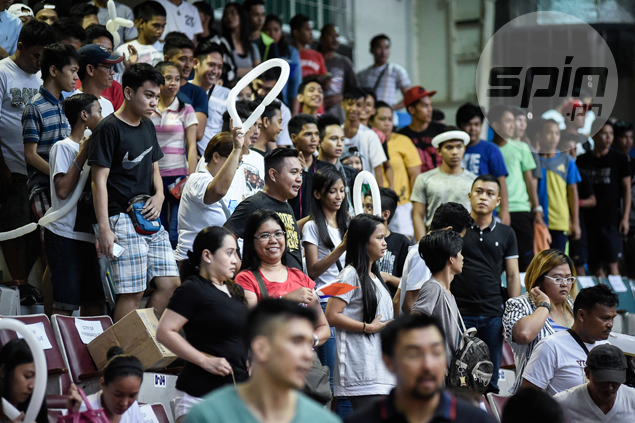 There's also no doubt that Bobby Ray Parks' decision to play for Alab after his stint with the Texas Legends in the NBA D-League has helped spur interest among fans, especially among those in the countryside.
On Sunday, Parks didn't disappoint the fans as he finished with a league-record 41 points and 14 rebounds in Alab Pilipinas' 93-87 win over Taiwanese side Kaohsiung Truth.
"He is a household name in itself. That in itself is a big factor," said Ilagan.
[See One-game deals turn into season-long contracts for Jose, Inigo]
Parks, however, played down his pull among fans, saying Virtual Playground - owner of the Alab franchise - as well as television partner ABS-CBN have done a great job in marketing the games in the countryside.
"It's great. ABS-CBN and everybody did a great job of promoting this game and Alab Pilipinas. We truly appreciate it. All the sponsors and management, Sir Charlie Dy, Mark Salamat (Virtual Playground) did a great job of promoting us and getting us out here. It's a blessing," said Parks.
Ilagan has lauded the efforts of Alab Pilipinas to bring the games closer to fans, saying it has made the Philippines - the hotbed of basketball in the region - a vibrant market again for the ABL.
"We have to realize the realities of today. We are in a millennial era na everything, 'yung generation wants it now, easy to access, convenient," said Ilagan.
"Ang ginawa nila, dadalhin nila 'yung basketball sa kanila mismo. They've partnered with cities, mag-out of town games tayo, and they are really spread out in the country," said Ilagan.
"You get to enjoy competitive basketball in its highest entertainment form," he added.