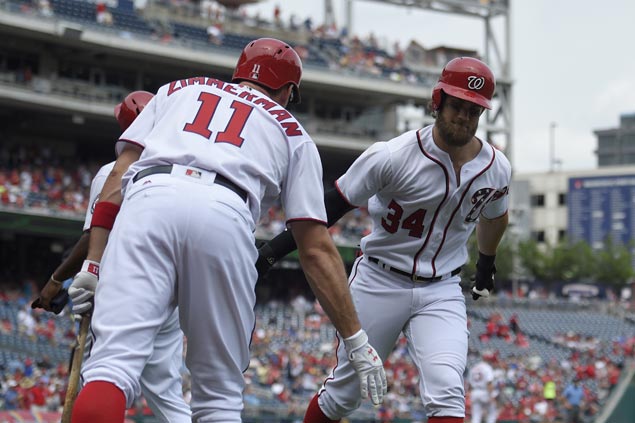 WASHINGTON — The Washington Nationals staged their own version of the Home Run Derby, with Michael Blazek serving as the unwilling batting practice pitcher.
Washington tied a franchise record with eight homers and matched two major league marks during a prolific third inning that highlighted a 15-2 rout of the fading Milwaukee Brewers on Thursday (Friday, Manila time).
Bryce Harper and Ryan Zimmerman each homered twice for the Nationals, who banged out 19 hits in reaching double figures in runs for the 18th time this season.
"We have a lineup that can do some special things," Harper said. "Anything can happen."
Washington equaled two big league records in a seven-run third: Most consecutive home runs (four) and most home runs in an inning (five).
"We had a big offensive barrage today," manager Dusty Baker said, understating the obvious.
All the home runs in the third inning were hit off Blazek (0-1), who was making his first major league start following 108 appearances in relief.
"I felt like I made some decent pitches but they were locked in on everything," the right-hander said. "It's not how I pictured it going."
He could have hardly imagined becoming the first pitcher in baseball history to allow five home runs in an inning.
Only five other major league teams hit five homers in an inning, a feat that had not occurred since Milwaukee did it in 2006. Washington became the eighth team to hit four in a row, the first since Arizona in 2010.
After Harper connected in the first inning, Brian Goodwin started the long-ball party in the third with a two-run drive after Blazek walked Washington starter Max Scherzer.
"The last thing I wanted to do was lead off the inning with a walk, especially to a pitcher," Blazek said. "It just kept building and building from there."
Wilmer Difo, Harper and Zimmerman followed with long home runs.
The streak was interrupted when Daniel Murphy flied out, after which some of the fans reacted with good-natured booing.
Anthony Rendon resumed the fun with a shot to dead center that finally chased Blazek, who gave up seven hits — six of them long balls.
Zimmerman and Jose Lobaton both homered off Wily Peralta in the fourth for a 15-1 lead.
The eight home runs tied the franchise mark set in July 1978 by the Montreal Expos against Atlanta.