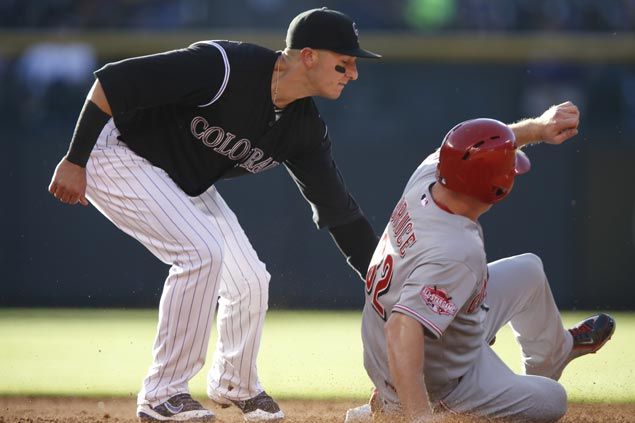 DENVER — Troy Tulowitzki has been traded by the Colorado Rockies to the Toronto Blue Jays for Jose Reyes and three pitching prospects in a stunning swap of star shortstops, according to a person with knowledge of the situation.
The person spoke to The Associated Press on condition of anonymity early Tuesday because the deal had not yet been announced.
In addition to Tulowitzki, the Rockies sent 42-year-old reliever LaTroy Hawkins to the Blue Jays.
Along with Reyes, the Rockies picked up reliever Miguel Castro and two minor league pitchers.
Neither team had confirmed the blockbuster deal. FoxSports.com first reported the sides had agreed to a trade involving Tulowitzki, Reyes and minor leaguers.
The talented but oft-injured Tulowitzki is a five-time All-Star who is hitting .300 with 12 homers and 53 runs batted-in in 87 games this season.
He was replaced on defense in the bottom of the ninth inning during Colorado's 9-8 loss to the Cubs in Chicago on Monday night. After the game, the slugger spent at least 30 minutes in manager Walt Weiss' office at Wrigley Field, but was unavailable to reporters.
The deal gives Toronto another powerful, right-handed bat in a dangerous lineup that includes Jose Bautista, Josh Donaldson, Edwin Encarnacion and Russell Martin. The Blue Jays are tied for second place in the AL East, seven games behind the New York Yankees.
Reyes is batting .285 with four homers, 34 RBI and 16 steals. He was acquired by Toronto in a November 2012 trade with Miami.
The face of Colorado's franchise, the 30-year-old Tulowitzki has spent his entire career with the Rockies (42-55) but has been the subject of trade speculation for some time. Still, the Blue Jays seemed an unlikely destination.
Tulowitzki is in the middle of a $118 million, six-year contract that runs through 2020. The deal includes a $15 million team option for 2021 with a $4 million buyout.
Before the game, Weiss was asked if he's talked to his star shortstop about handling distractions leading up to Friday's non-waiver trade deadline.
"I've talked to these guys as a group about all the distractions that come with the trade deadline," Weiss said. "Basically, I told them to control what they can control. There are always distractions at this level during this time period."
The speedy Reyes, a four-time All-Star with the New York Mets, has struggled with injuries throughout his career. In 69 games with the Blue Jays this season, he is hitting .285 with a .322 on-base percentage. He has four home runs, 34 RBIs and 16 stolen bases.
ADVERTISEMENT - CONTINUE READING BELOW
Reyes is signed through 2017 on a $106 million, six-year contract.
Hawkins is 2-1 with a 3.63 earned run average in 24 games.