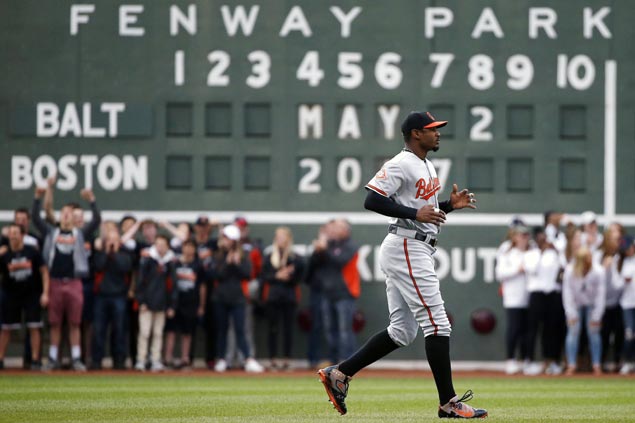 BOSTON — Orioles outfielder Adam Jones has described the incident in which he said fans inside Fenway Park yelled racial slurs at him and threw a bag of peanuts in his direction as "unfortunate," with no place in the sport.
Jones on Tuesday (Wednesday, Manila time) said he thought the taunts speak to larger race issues in the United States, rather than the city of Boston or its Red Sox fan base.
"I thought we'd moved past this a long time ago," Jones said. "But obviously with what's going on in the real world, things like this, people are outraged."
Jones received a personal apology from Red Sox team president Sam Kennedy on behalf of the organization.
The All-Star player said it was not his intent to flood attention on what happened to him, but felt "it was just the right time" to speak out.
Kennedy said 34 people were ejected for various reasons Monday night and reiterated the team's "zero tolerance" policy for such incidents. He also said there would be extra security around the outfield on Tuesday night (Wednesday, Manila time).
"I'm a grown man with a family to raise. So I'm not just gonna let nobody sit there and berate me," Jones said. "Where I come from if you say things like that, you put on the gloves and you go after it."
Kennedy said that 10-15 people are usually ejected from Fenway any given night, and the 34 ejections Monday were usually high. Along with the fan ejected for throwing the peanuts, a second fan was ejected for using foul language toward a player. But the team doesn't know whether the fan used the bad language toward Jones.
Kennedy and manager John Farrell separately met with Red Sox players on Tuesday and said the players reported experiencing similar incidents at Fenway and around the league.
ADVERTISEMENT - CONTINUE READING BELOW
If "One person hears an inappropriate remark or slur, that's one person too many," Kennedy said.
Boston's professional teams — like the city's neighborhoods — had different reactions to the civil rights movement and the integration of professional sports.
While the Celtics and Bruins broke barriers in pro basketball and hockey, the Red Sox were the last Major League Baseball team to field a black player.
In the 1980s, the Red Sox also dealt with an incident during spring training in Florida in which an Elks Lodge was giving passes to only white players.
Outrage and condemnation flowed from around Major League Baseball on Tuesday.
"It's nothing new to any of us," Atlanta Braves outfielder Matt Kemp said. "He let it be known that's what we go through. I mean, it's pretty much normal. I'm not going to name all the cities, but there's some pretty tough cities where people say some pretty ruthless things. There's no filters or nobody holding anybody accountable for some of the things these fans do."
Yankees pitcher CC Sabathia said "You get called names, N-word, all kinds of stuff when you go to Boston."
Massachusetts Gov. Charlie Baker said the incident was "outrageous and disgraceful."
"There's no place in Massachusetts, there's no place in Boston, there's no place anywhere for that kind of behavior," Baker said.
Police Lt. Mike McCarthy said a fan threw a bag of peanuts at the Orioles' dugout and hit a police officer posted nearby, not the fielder. He told The Associated Press that security officials had the man thrown out before police could identify him.
Jones, a five-time All-Star, said he has been the subject of racist heckling in Boston's ballpark before.
"Hopefully the awareness comes," he said. "People around in the stands will hold other fans accountable."
The Red Sox said any spectator behaving poorly forfeits the right to be in the ballpark and could be subject to further action.
ADVERTISEMENT - CONTINUE READING BELOW
"The racist words and actions directed at Adam Jones at Fenway Park last night are completely unacceptable and will not be tolerated at any of our ballparks," Baseball Commissioner Rob Manfred said in a statement.
Hall of Famer and Yankees senior adviser Reggie Jackson said the incident with Jones proves the United States has long way to go with race relations.
"I guess this thing with Adam Jones," he said, "it makes you well up and get teary-eyed. ... You really feel that way?"