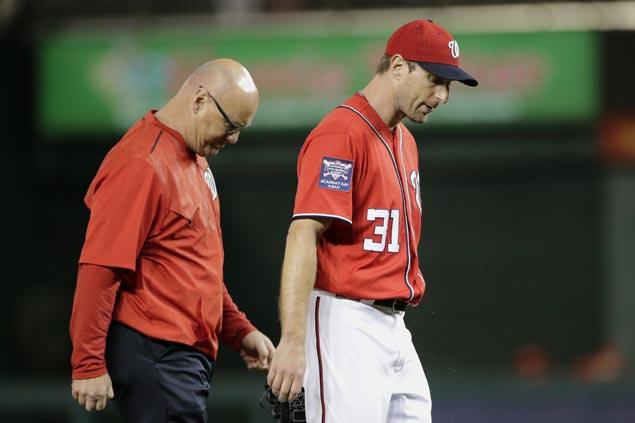 WASHINGTON — Max Scherzer hopped awkwardly off the mound, putting the Nationals on edge in an otherwise meaningless playoff tuneup.
Now Washington is just hoping its ace has his legs back under him by the end of the week.
Scherzer was pulled with a right hamstring cramp in his final regular-season start, and NL East champion Washington lost to the Pittsburgh Pirates, 4-1, on Saturday night (Sunday, Manila time).
Scherzer was not available to speak with reporters after the game. He left Nationals Park to get a precautionary MRI on the hamstring, according to a team spokesperson.
"We took him out for precaution," Washington manager Dusty Baker said. "We gotta make it to the playoffs healthy. So we thought it was better that we make that move, the precautionary move, to get him ready."
Baker downplayed the severity of the injury, but with six days until Washington opens an NL Division Series at home against the Chicago Cubs, it did not want to take any chances with its NL Cy Young Award contender.
"In a bigger situation, he probably could have stayed in the game," Baker said.
Scherzer, who leads the league in strikeouts and is 16-6 with a 2.51 ERA, stumbled on a 2-2 pitch to Josh Bell in the fourth inning, briefly jumped around the mound and bent over at the waist.
Scherzer then began to throw a full-count pitch, but abruptly stopped when time was called.
Baker, pitching coach Mike Maddux and team trainers visited the mound and quickly took out Scherzer.
Scherzer had given up one hit and struck out five, raising his season total to 268, in 3 1/3 scoreless innings when he was hurt.
The Pirates rallied with four runs in the ninth inning off Brandon Kintzler (2-1). Sean Rodriguez singled home the tying run with Pittsburgh trailing 1-0 and down to its final strike. Max Moroff later hit a bases-loaded triple.
ADVERTISEMENT - CONTINUE READING BELOW
Scherzer, 33, has now left four of his last 10 starts with various ailments.
The two-time Cy Young winner left an Aug. 1 start at Miami with neck spasms.
On Aug. 19, Scherzer was scratched from a scheduled start against San Diego and placed on the 10-day disabled list with a recurrence of that neck injury. It was his first stint on the DL since 2009.
On Sept. 2, Scherzer took a line drive off his left calf in the first inning of a game at Milwaukee and was pulled after 75 pitches when the muscle tightened at the end of the fifth inning.