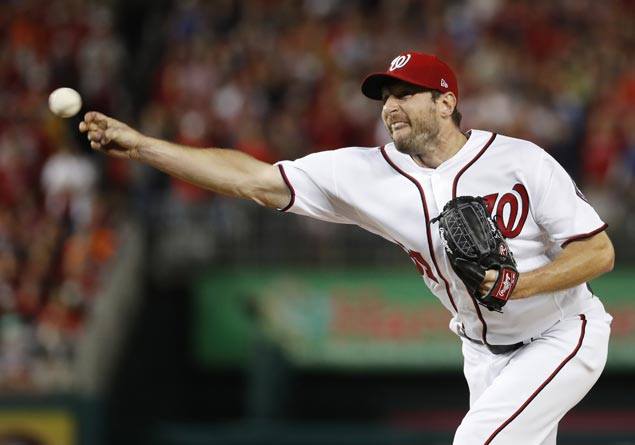 PEDRO Martinez and Madison Bumgarner made it look easy.
For Max Scherzer, pitching in relief proved a lot rougher.
When Scherzer took the mound in the top of the fifth on Thursday night in Washington (Friday, Manila time), the Nationals were clinging to a one-run lead, hoping their star right-hander could move them an inning or two closer to the NL Championship Series. Instead, Washington gave up the lead for good when Chicago scored four runs with two outs, and the Cubs went on to a 9-8 victory in Game Five of the NL Division Series.
Scherzer's relief appearance was the kind of move that has become fashionable of late. A short postseason series creates heightened urgency, and managers are willing to ditch some of the rigid roles they've put pitchers in during the regular season. That flexibility sometimes leads to longer relief outings for closers, and it also means starters like Scherzer will occasionally come in from the bullpen.
That's worked out famously for some teams in the past. Bumgarner earned a five-inning save in Game Seven of the 2014 World Series for San Francisco, and Martinez held Cleveland hitless for the final six innings when Boston beat the Indians in Game Five of the 1999 ALDS.
But Scherzer's outing was a reality check to anyone who thinks that type of performance is easy.
So far in this postseason, Chris Sale, Justin Verlander, Jon Lester, Jose Quintana and Scherzer have all pitched in relief on short rest after making starts earlier in the series. The results have been decidedly mixed. Those five have combined for 12-2/3 innings in relief, allowing six earned runs and 10 hits with five walks and 10 strikeouts.
The way the Division Series are scheduled, a manager often has a choice of whom to pencil in for a decisive Game Five — since the starters from Games One and Two would both have enough rest. It's tempting to use the Game One starter in relief on short rest in Game Four, then save the Game Two starter for Game Five — because that allows a team to use its top two starters in two games apiece.
ADVERTISEMENT - CONTINUE READING BELOW
The Houston Astros entered Game Four of the ALDS against Boston with a 2-1 series lead. The Red Sox, trying to extend their season, brought Sale on in relief in the fourth inning with Houston up by a run. The Astros countered in the fifth with Verlander, who like Sale had started Game One. If there had been a Game Five, Dallas Keuchel would have been set to pitch for Houston.
Verlander had never pitched in relief in the regular season or postseason. Manager A.J. Hinch put him in with a runner on first and one out.
"Justin Verlander wanted the ball. He was very good about preparation," Hinch said. "It did cut out of his routine, which is the one thing you question. He's been doing this routine for 13 years."
Verlander allowed a two-run homer to his very first batter, giving up the lead, but that was the only hit off him in 2-2/3 innings. He did not have a strikeout — a rare occurrence for him — but he ended up getting the win.
Sale kept the Astros scoreless for four innings, but two Houston runs in the eighth were charged to him, and Boston was eliminated.
"You've just kind of got to throw your routine out the window and say, 'I'm just going to pitch,'" Verlander said. "Once I gave up the homer and just kind of got out of that inning and then was able to go in the dugout and sit down, and I just treated that like I had just pitched the first inning and we were behind by a run, and OK, just shut the door and give our guys a chance to come back."
The change in routine can be an obstacle for a starter pitching in relief, and the short rest after a previous start may be an even bigger issue. Verlander and Sale combined to allow three runs in 7-1/3 innings that day — solid work, but not overwhelming.
ADVERTISEMENT - CONTINUE READING BELOW
The decision to bring a starter in the middle innings may hinge on how much confidence a manager has in his bullpen's depth and stamina. When the New York Yankees pulled CC Sabathia in the fifth inning of their ALDS finale at Cleveland, they needed only two relievers — David Robertson and Aroldis Chapman — to get through the final 4 2/3.
There are times, however, when desperation takes over. With closer Kenley Jansen running out of steam after 51 pitches, the Los Angeles Dodgers turned to ace Clayton Kershaw — on one day of rest — to get the final two outs in Game Five of last year's NLDS against Washington.
Kershaw wasn't a sure bet pitching in that situation, and neither was Verlander in relief against Boston this year. But in the postseason, each game takes on so much importance that managers are willing to push their stars a bit further.
"I think if you learn anything from watching playoff baseball or being in playoff baseball, you have to try to win today," Hinch said. "You can't save anything for tomorrow, if you have guys available."