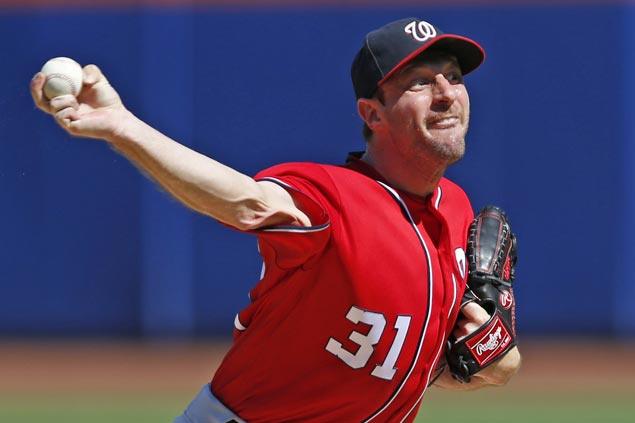 NEW YORK — With a pair of top pitchers going toe-to-toe on the mound, this one felt like a low-scoring playoff game. And that's exactly what the Washington Nationals are getting ready for.
Max Scherzer struck out 10 and outpitched Jacob deGrom in a matchup of aces, and the Nationals edged the New York Mets, 3-2, on Sunday (Monday, Manila time) to clinch home-field advantage in the NL Division Series.
"Everything has been turned up, with the focus of trying to get everybody dialed in for the playoffs," Scherzer said. "It's not just any one player. That's why these games are so important."
Trea Turner hit a two-run homer and Scherzer (16-6) limited the Mets to three hits and one walk over six innings. He leads the National League with 263 strikeouts and ranks second to Dodgers lefty Clayton Kershaw (2.21) with a 2.55 earned run average.
Washington will host Game One of a best-of-five playoff series on Oct. 6. The team's opponent remains to be determined, but the only NL division winner that can finish with a better record than the Nationals (94-61) is Los Angeles.
The Chicago Cubs could win 94 games and the NL Central, but Washington won the season series between the teams 4-3.
Prepping for those postseason chess matches on a rather hot September afternoon, Nationals manager Dusty Baker played matchups with the game on the line in the late innings.
New York cut the lead to 3-2 with one out in the eighth on Jose Reyes' RBI single. After Ryan Madson struck out Brandon Nimmo and walked Travis d'Arnaud to load the bases, Sammy Solis struck out pinch-hitter Kevin Plawecki to end the inning.
With closer Sean Doolittle getting a rest, Baker went to Brandon Kintzler, who had not recorded a save since July 28 for Minnesota.
Kintzler, who came over in a deal just hours before the July 31 trade deadline, felt that old adrenaline rush as he worked a scoreless ninth for his 29th save in 34 chances this season. The Mets threatened again, putting runners on second and third, but Nori Aoki grounded out to end it.
ADVERTISEMENT - CONTINUE READING BELOW
"It's good to get something like that out of the way so that next week that pressure won't be such a surprise," Kintzler said.