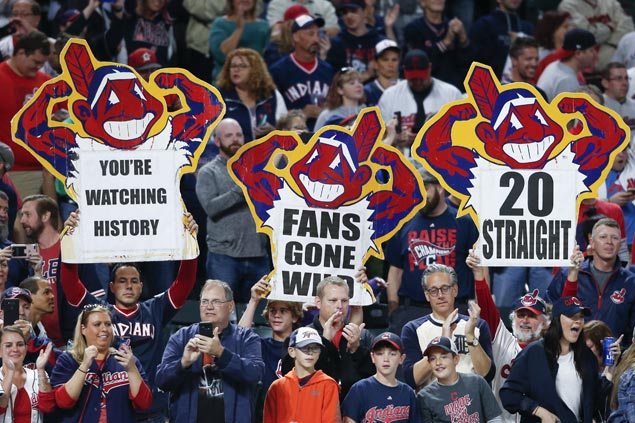 CLEVELAND — The Cleveland Indians share a record with a team celebrated by Hollywood.
"Moneyball" has its sequel.
Following a familiar script of scoring first, playing strong defense and riding dominant pitching, the Indians extended their winning streak to 20 games and matched the AL mark held by the 2002 Oakland Athletics, beating the Detroit Tigers, 2-0, on Tuesday night (Wednesday, Manila time).
Cleveland's streak, which began on Aug. 24 in Boston, is tied for the majors' second-longest in 82 years — and the Indians show no signs of stopping.
Corey Kluber (16-4) strengthened his Cy Young Award case with a four-hitter as Cleveland joined the 2002 A's, 1935 Chicago Cubs (21) and 1916 New York Giants (26) as the only teams since 1900 to win at least 20 in a row.
Francisco Lindor homered leading off the first inning against Matthew Boyd (5-10), and Kluber sealed win No. 20 — and Cleveland's seventh shutout during the streak — by getting Miguel Cabrera on an easy grounder to third.
Meanwhile, Eric Thames hit his 29th home run, Domingo Santana went 3 for 4 with two runs batted-in and Milwaukee beat Pittsburgh, 5-2.
The Brewers pulled within two games of the NL Central-leading Chicago Cubs who were playing the New York Mets.
Gerrit Cole (11-10) took his first loss in 10 road starts since the Atlanta Braves beat him 5-2 on May 22. He slipped to 8-1 away from PNC Park over that stretch after allowing five runs and seven hits in six innings. He tied his season-high with 10 strikeouts in his fifth start against Milwaukee this season.
Manager Craig Counsell turned to the bullpen to protect the 5-2 lead. Jeremy Jeffress, Oliver Drake, Jared Hughes, Anthony Swarzak and Josh Hader each turned in a scoreless inning. Jeffress (3-0) was the pitcher of record. Corey Knebel pitched the ninth for his 35th save in 40 chances.