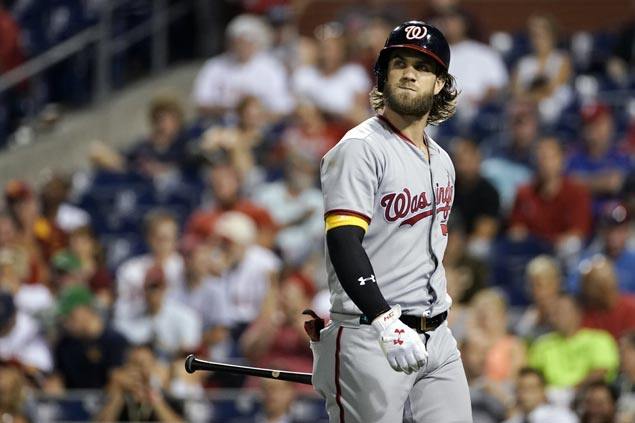 WASHINGTON — Nationals outfielder Bryce Harper won't play a full game this weekend as he continues to recover from a hyperextended left knee that he sustained on Aug. 12.
Harper returned to the lineup on Tuesday and played two games this week in Philadelphia, not going a full nine innings either time. Washington manager Dusty Baker gave him a day off Thursday against Pittsburgh.
Harper was in the lineup on Friday night against the Pirates (Saturday), and Baker said the 2015 NL MVP would play six or seven innings before taking another day off Saturday. Going nine innings on Sunday is unlikely, Baker said, meaning Harper won't play a full game before the playoffs. Washington hosts the Chicago Cubs in Game One of the NL Division Series on Oct. 6.
"What's the most (innings) he's played? Five?" Baker said. "Is there time for him to play nine? Realistically, when do I play him nine?"
Baker said the Nationals would continue to monitor how Harper feels.
"And if he's a little sore," Baker said, "we're not going to extend him."
Stephen Strasburg pitched 7 2/3 shutout innings for Washington, and Ryan Zimmerman homered twice as the Nationals beat the Pirates, 6-1.
Strasburg (15-4) gave up two hits, struck out eight and walked two. He is 5-1 with a 0.84 ERA since returning from the disabled list on Aug. 19.
Zimmerman hit a two-run homer in the sixth and a solo shot in the eighth for the NL East champions. It was his seventh multihomer game of the season.
Pittsburgh's Gerrit Cole (12-12) was charged with three runs and eight hits in 5 1/3 innings.