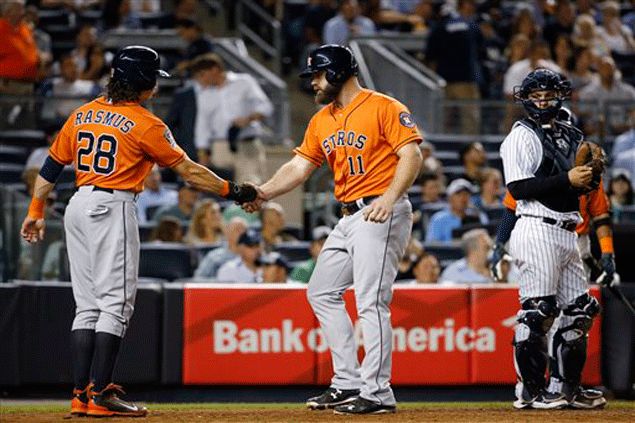 NEW YORK — A green laser beam bounced around a fog-filled clubhouse, music blared from all corners of the darkened room. It's a postgame party that's becoming commonplace with these Houston Astros.
Evan Gattis hit two home runs, Collin McHugh excelled once again and the Astros exceeded last season's win total, beating the New York Yankees 6-2 Wednesday.
"You could tell the pieces were here," said Gattis, in his first year with Houston. "We're not on an island out there. We could see it."
Still, did he expect such a dramatic turnaround?
"Maybe not this quick," he said.
The AL West leaders improved to 71-57, a year after going 70-92. With almost six weeks left on the schedule, the Astros already have achieved their best season since 2010.
Houston also managed to win a road series for the first time since mid-June at Colorado, taking two of three at Yankee Stadium.
"We see what we've done and haven't done," McHugh said. "It's always there."
Following four seasons in which they averaged 104 losses, the Astros now lead the majors in home runs and have the best ERA in the AL and the most stolen bases.
"We have a lot of strengths," manager A.J. Hinch said. "We can do a lot of damage."
The Yankees have lost five of seven, a slide that's cost them first place in the AL East. The Astros kept them skidding.
"They pitch very well, good defense and they hit the ball out of the ballpark. That's a pretty good combination," Yankees manager Joe Girardi said. "And they can steal bases."
"They got the best of us," he said.
Gattis sliced an opposite-field shot to right in the second inning and launched a long drive into the left field seats in the eighth. His third homer in two days gave him 22 this year and boosted the Astros' total to 174.
McHugh (14-7) kept up a recent run of ace pitching, both for himself and the team. Houston has won seven of nine, setting a team record by not permitting more than two runs in any of them. The last AL team with a longer streak was Baltimore in 1974, which went 10 in a row.
McHugh shut out the Yankees until Didi Gregorius hit a two-run homer in the seventh. He outpitched Michael Pineda (9-8) for the second time this year and has allowed just seven runs in his last five starts.
ADVERTISEMENT - CONTINUE READING BELOW
A day after a 15-1 romp that saw excitable Carlos Gomez get into a dustup with the Yankees, there weren't any signs of ill will between the teams. Houston star Jose Altuve was hit in the shoulder by a pitch in the ninth and merely looked at reliever Nick Goody as he walked to first base.
The power-packed Astros did show off their small-ball side during a four-run fifth that made it 5-0.
Gomez beat out an infield hit and Luis Valbuena followed with a hit-and-run single. Jake Marisnick then bunted for a single, driving in a run as the Yankees got tangled up trying to make a play at first.
Earlier, Altuve stole his AL-leading 33rd base. The All-Star second baseman made his big league debut in 2011, the start of four lean years for the Astros.
"I always believed in the rebuilding process," Altuve said.
Pineda came off the disabled list after missing nearly a month because of a strained right forearm. New York needs him to do well, especially after putting starter CC Sabathia on the DL this week, but Pineda was tagged for five runs on six hits and a walk in 4 1-3 innings.
Gattis connected off Adam Warren in the eighth for his fifth career multihomer game and second this season.