LA Salle ended a 13-year title drought in UAAP baseball and stopped Ateneo's three-year reign, completing a sweep of the Season 78 finals with an 11-9 Game Two victory on Monday at the Rizal Memorial Baseball Stadium.
The Green Archers scattered six runs in the thrilling seventh inning after giving up the same number of runs in the fourth, sweeping of the best-of-three title showdown.
The title was the first for the La Salle batters since 2003 when their current head coach Joseph Orillana was still pitching for the squad, leading the Green Batters to the title victory over University of the Philippines.
"Fulfilled na rin ang carer ko as player and coach. Baka eto 'yung simula sa coaching career ko," said the 35-year-old Orillana, still soaking wet when interviewed by reporters after his players dumped water from the team's cooler after the game.
The Green Archers, who finished second in the eliminations with a 7-3 win-loss slate, won the series opener, 8-3, on Friday.
The Blue Eagles, on the other hand, where 9-1 in the team standings but couldn't win the most important games of the season.
Paolo Salud smashed a base hit to right field to bring home two La Salle runners — two of his four runs batted-in — and break a 9-9 tie to complete a comeback from 9-5 down. Kiko Gesmundo earlier tied the count after drilling a grounder that went to left field, scoring two runners who went aboard on hit-by-pitches.
Continue reading below ↓
Recommended Videos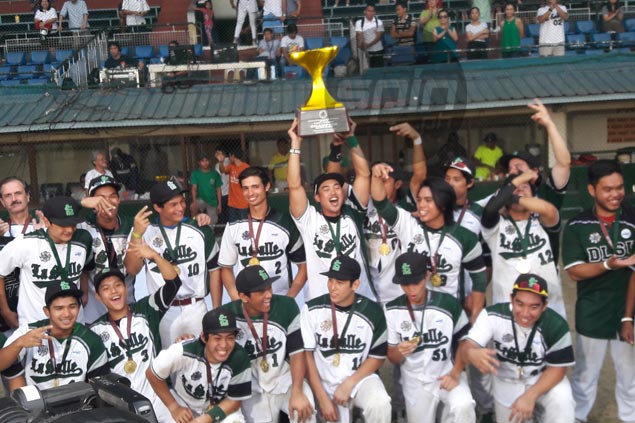 The Green Archers scored a run in each of the first three innings but the Blue Eagles kept their poise with six runs at the top of the third inning until the seventh inning where they gave up four hits.
Last season's Rookie of the Year Boo Barandarian had eight strikeouts in five innings of relief and was adjudged as co-Most Valuable Player with fellow pitcher Diego Lozano.